Latest updates
RICHMOND GOAL
Aarts runs onto the loose ball deep in attack, easily beats Lycett to the pill, turns the Power ruckman inside out and snaps truly from point-blank range!
This game has had it all! Action aplenty and we're not even halfway through this one!
Moments earlier, Pickett took one of the marks of the year on Richmond's half-back flank!
THREE POWER GOALS IN A ROW!
Amon accepts the handball from the congestion from Georgiades at the top of the goal square and snaps truly from 20m out!
The Power have now regained the ascendancy in this contest. What a game. It feels like a final!
BACK-TO-BACK POWER GOALS
Georgiades kicks a long ball deep into attack, it hits the pack, Duursma collects the crumbs and handballs it to Gray who snaps truly from the pocket! What a kick!
He joins Ladhams as Port Adelaide's second multiple goalkicker.
PORT ADELAIDE GOAL
The Power are back in front! What a game! That atmosphere is electric!
Baker backs back with enormous courage into the oncoming Dixon in a real David v Goliath clash. Full kudos to Baker, there.
But Woodcock collects the crumbs and his quick snap under enormous pressure from 40m out sails through!
Finally, after the score review denied him his first goal last week, he can celebrate his first career goal this week!
BACK-TO-BACK RICHMOND GOALS
Riewoldt grabs possessions of the ball and is stripped of the ball after being tackled Duursma, but the umpire waves play on! This is unbelievable!
Martin collects the spillage and his snap from 25m out bounces home to give the Tigers the lead!
The Power fans are going absolutely ballistic and rightfully so!
RICHMOND GOAL
Martin pushes Clurey in the back, but Riewoldt ends up with the free kick for being taken high by McKenzie at the top of the goal square!
The Port Adelaide fans are going troppo! That is a horrible umpiring decision!
Riewoldt goes back and slams it home from point-blank range, to further incense the Power faithful!
Riewoldt now has a game-high three majors and it's back to a two-point ball game.
PORT ADELAIDE GOAL
Jonas bombs it long and Ladhams takes the huge pack mark from four deep! Super grab.
From 40m out on a sharp angle, Ladhams' set shot never looks like missing! What a kick!
Ladhams becomes the Power's first multiple goalkicker and he is having a great game so far.
That ends a run of four consecutive Richmond goals.
FOUR RICHMOND GOALS IN A ROW!
In the blink of an eye, the Power's huge lead has almost been wiped out!
Martin emerges from heavy congestion with the ball, rides the Rockliff tackle and handballs it to Lambert whose quick kick under pressure from 10m out dribbles home!
After giving up the first four goals of the game, the Tigers are just one point down! What a champion team they are. Game on!
Dixon's two easy misses in the first quarter are glaring now!!
The Power burst out of the blocks with the first four goals, but the Tigers responded well with the last three. What a game!
Port Adelaide only lead by nine points despite dominating the disposals 80-56, clearances 12-3, tackles 20-15, marks 18-12, inside 50s 13-8, contested possessions 35-24 and free kicks 8-2. They're also on top in scoring shots 8-6.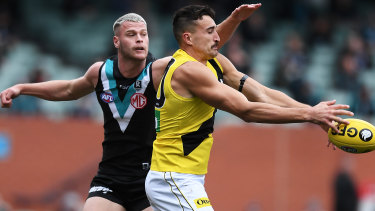 Port Adel. 4.4 (28)
Richmond 3.3 (21)
GOALS
Port Adel: Ladhams, Dixon, Gray, Butters
Richmond: Riewoldt 2, Lynch
DISPOSALS
Port Adel: Boak 8, Butters 6, Houston 6, Powell-Pepper 6, Woodcock 6, Byrne-Jones 5, Dixon 5, Wines 5
Richmond: Bolton 6, McIntosh 6, Martin 5, Ross 5, Vlastuin 5
LATE CHANGE
Connor Rozee (heel) was replaced in Port Adelaide's selected line-up by Cam Sutcliffe.