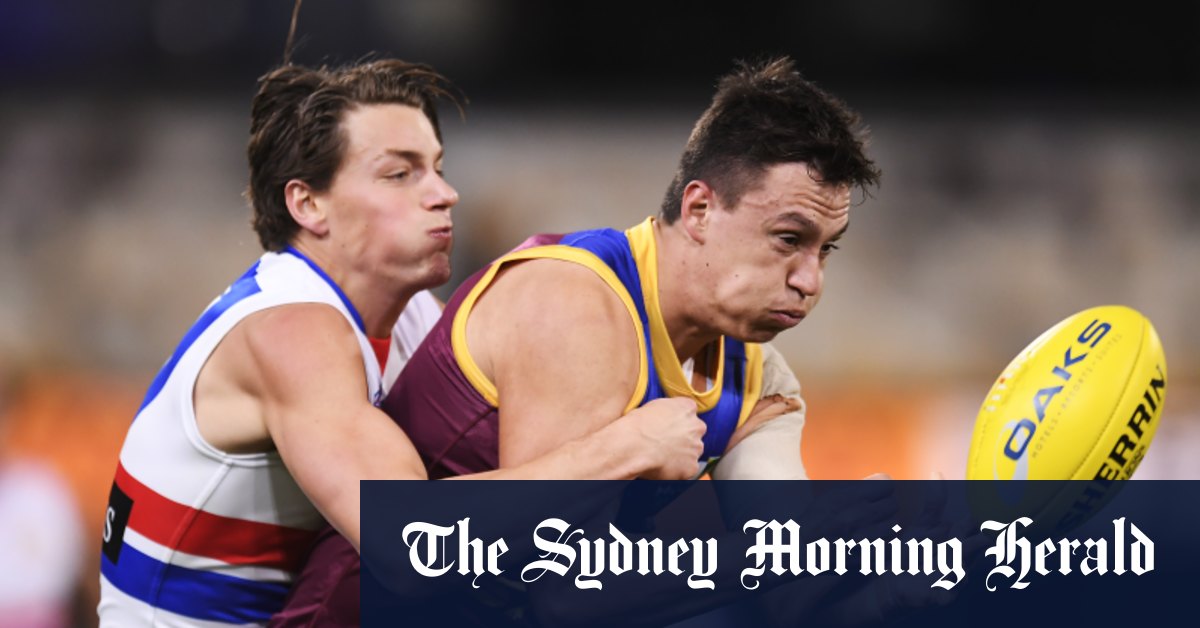 Latest updates
Finals heartbreak still driving Lions: Zorko
Brisbane captain Dayne Zorko was also a key contributor and he spoke to Channel Seven after the game…
Q: You are second on the ladder.
A: Really happy with the boys' efforts tonight. Coming off back-to-back four-day breaks. We did a lot right against Richmond, didn't execute. After a slow start, to be able to finish the way we did. Nervous in the last quarter, but overall proud of the boys.
Q: Zac Bailey, two goals, real quality about him.
A: He is one of the maturing guys that has probably been on the fringe for the last few years. His pre-season this year was exceptional. He has been able to force his way into the side. He has been great for us. The next level for him is consistently bringing that to the game. He is going through some inconsistent patches at times. He is working really hard to get them out of his game. Tonight we got to see how bright his future is. In the change rooms then he said he should have kicked four. He's got a little bit of swagger about him too which is great.
Q: Always a dangerous opponent, the Western Bulldogs. They can rattle goals on pretty quickly and start pinging the ball around. They're hard to put away.
A: They really are. They're a very difficult side. So well drilled. Always throwing different looks at you. If you're not at the top of your game, they can impact the scoreboard quickly. At the start of the last quarter, I was getting nervous because they were going for it. To our boys' credit, really great we've matured and been able to stop that momentum. It is something we've worked on for the last few years, stopping teams' momentum, we were able to do that. A couple of late goals, keep the margin as it was.
Q: We were concerned about Charlie Cameron, he landed awkwardly. We took a deep breath for a moment. The fact he strapped the knee, appeared to be OK. Any indication of how he is?
A: I told him, "It's a bruise, mate, you'll be right". It looks like hyperextension. He is walking around really boisterous in the change rooms at the moment. Hopefully it's not too serious. The fact he was able to get movement through it and come back out on the game is a good sign. Hopefully just a little bit of bone bruising, they can be nasty those injuries. The fact he was able to run again is an encouraging sign for us.
Q: Can I ask about the final series last year, you had an unbelievable season, the Lions, then had that to deal with. How much is that driving this group to get into the finals series, whenever they're played this year and take it the next step?
A: Significantly. As a group we learnt a lot from our losses last year. We were in both of those games right up to our necks really. It was disappointing we weren't able to execute our game plan as well as we would have liked to. We had a good look at that over the summer. We've come out and changed our style. We are confident if we are put in that situation again, we will be able to execute and turn the tables. In saying that, it was great we walked into a finals series with 18 players not playing a final, the fact we were able to get two into our core list is encouraging. Hopefully that holds us in good stead.
Neale praises fitness staff during condensed fixture
Lachie Neale was the best player on the ground tonight as his charge towards a Brownlow Medal continues unabated. He spoke to Channel Seven post-game…
Q: Was it important to bounce back tonight?
A: It was. We were disappointed with the way we played four days ago against Richmond. The guys were pretty ready to go tonight, although it didn't probably show the first couple of minutes, they kicked a few early but we stayed composed out there and was able to wrestle it back quickly. Thought we were on top for most of the night. But Bulldogs to their credit kept coming, kicked a couple in a row, made it a good contest. They're a quality team.
Q: Your form has been outstanding, your consistency incredible. How are you holding up with back-to-back games? You seem to look fresh tonight after playing so well?
A: Our staff have done a great job in preparing us for this stretch of games. We had a solid block of pre-season in the COVID break when we didn't have any games, we had a good program. It set our group up for the condensed games because we thought they were going to come at some point. Body's feeling really good. I played out that second half without coming off and I've pulled
up really well. Body's feeling good. Probably moving the best I have in my career. Yeah, I'm really happy with how the body's going at the moment.
Q: Lachie, a big win around the stoppages tonight. We love the 'Big O' [Oscar McInerney]. Is he a cult figure?
A: He is, even among the players, he is called the GOAT. He does things we marvel at for a big guy. He was pretty good tonight. Tim English is a really good ruckman, I thought 'O' competed fiercely tonight and was a big part of the midfield dominance, I suppose.
Q: Nice to see Eric Hipwood hitting the scoreboard. He's just been building into the season but five goals very good from him?
A: He seems to have two or three of these games every year where he bobs up, kicks his four or five and ignites the team. He is an important cog in the team. They've got a good spread, they don't care who kicks the goals as long as we do.
Q: You are five and zero at the Gabba, surely you can get on the phone to the Premier [to make sure the grand final is at the Gabba]?
A: It would be good to host some finals here. I think the state's done a lot for the game of footy this year. So has everyone though. They've sacrificed a lot to get this season underway. If there were a few finals or the grand final at the 'Gabba, that'd be great, especially for this state. I think AFL's starting to come along really well.
Q: In the early 2000s when they had that amazing side, there was a real sizzle around AFL in Brisbane. It feels like to us that's starting to come back. Is that the impression you're getting?
A: Definitely. If I'm honest, when I first came here, the guys had come off winning five games, the interest level was low. I'm noticing the interest is more. Last year when we were able to go to cafes, people were recognising the players. I don't think they'd had that. That's a credit to the footy club to get the club to where it is now.
Hardwick fumes at brain fade
In the earlier game, Damien Hardwick was filthy after his side gave away a 100-metre penalty at a critical time in Richmond's game against Port Adelaide which the Power eventually won by 21 points.
The boys from Brisbane town!
The Brisbane boys belt out the song after an impressive win
Big nights for Macrae and Neale
Here is some of the social media reaction to Brisbane's comfortable win over the Bulldogs…
'Bloody great to be out here': Eagles
Brisbane cult figure, and winner of 'The Recruit', Matty Eagles joined Channel Seven after playing his first game in over two years…
Q: Welcome back. How did you enjoy your first game back in two years?
A: Bloody great to be out here. Loved every minute. Would have loved to be on there before.
Q: How was your nerves? The crowd started to cheer five minutes in, you were running on. How is it
having the support?
A: The crowd go wild for some reason when I get out there. It's unreal. I absolutely love it.
Q: Coming in as a back-up ruckman, how is it rucking to Lachie Neale, Jarryd Lyons, Dayne Zorko and Hugh McCluggage?
A: Unbelievable, helping them guys and their experience helped 10-fold. Just followed the leaders.
Q: How dirty were you on Zac Bailey. He goes over your head and kicks a point [when you were free in the goal square].
A: The footy gods will look after me next time. It's all good. Just good to be out there to be honest.
'We could have easily laid down': Lyons proud of Lions
Jarryd Lyons was one of Brisbane's best tonight and he spoke to Channel Seven after the game…
Q: To beat the Doggies, you have to win at contested possession. You guys were excellent in there.
A: We had that blueprint last year when we beat them here. We knew it was going to be tough inside. They've got some quality mids. In the end, we probably won it at centre bounce. It was important for
us. We kicked a few goals out of there, it was really good.
Q: What turned the game?
A: They came out, played a really good counter-attacking brand off our half-back line. We knew if we could shut them down from the half-forward line, we'd get them. We ground it out that first quarter. Kicked a few, which was a credit to us coming off a four-day break. We could have easily laid down. It was well done.
Q: You had a purple patch. You scored three goals. Helped turn the tide.
A: It's a bit like that in these shortened games. If you can have a good five minutes, you can win the game from five minutes of play. I thought in the centre bounce, in that second quarter, we probably kicked three or four goals and turned the game on its head and it probably won us the game right there.
Q: You do all the hard work, the forwards can kick 14 goals tonight.
A: You don't understand how nice it is when we kick a goal from centre bounce. You don't do any running. Go up, let them kick it, come back. It was handy. We are doing a lot of work on it, it's not like we're not working on it. It was nice to get some reward tonight.
It was a comprehensive performance from the Lions in the end as they won the clearances 36-26, tackles 49-46, marks 72-64, inside 50s 54-46, hitouts 41-23 and scoring shots 26-17.
Bris.Lions 3.4, 9.8, 13.10, 14.12 (96)
W.Bulldogs 3.1, 5.2, 8.2, 11.6 (72)
GOALS
Bris.Lions: Hipwood 5, Ah Chee 2, McCluggage 2, Bailey 2, McStay, Neale, Robinson
W.Bulldogs: Wallis 3, Lloyd 2, Macrae, Lipinski, Bontempelli, Bruce, Dale, Naughton
DISPOSALS
Bris.Lions: Neale 36, J.Lyons 26, Witherden 24, Zorko 24, Bailey 21, McCluggage 20
W.Bulldogs: Macrae 40, Bontempelli 30, Dunkley 18, Liberatore 18
INJURIES
Bris.Lions: Cameron (left knee)
W.Bulldogs: Nil
In case you missed it, Callum Ah Chee took one of the marks of the year earlier in the game.