Summary
SPI futures are down 0.3% and point to early losses for the ASX 200. Wall Street climbed again overnight and could cushion the fall for the local bourse
The RBA's Statement on Monetary Policy today is expected to reveal a slightly more optimistic outlook for the Australian economy
Gold set a new record high of $US2072/oz while iron ore rose 2.7% to move past $US120 a tonne
The Aussie dollar remains at near 18-month highs and is currently worth US72.35c
Latest updates
IG MARKETS SPONSORED POST
ASX futures down 7 points, or 0.1 per cent, to 5992 at 6.15am AEST
AUD at 72.37 US cents at 6.26am AEST
On Wall St: Dow +0.7% S&P 500 +0.4% Nasdaq +1%
Spot gold +1.3% to $US2064.71 an ounce
Brent crude -0.1% to $US45.16 a barrel
US oil -0.4% to $US42.02 a barrel
Iron ore +2.7% to $US121.27 a tonne
10-year yield: US 0.53% Australia 0.85% Germany -0.53%
IG MARKETS SPONSORED POST
The Australian sharemarket is poised to slide lower at the open despite a positive lead from Wall Street. Shortly before 7am AEST, futures are pointing to a fall of 15 points, or 0.3 per cent, at the open. The Australian dollar continued to surge, rising to its highest point since February 2019.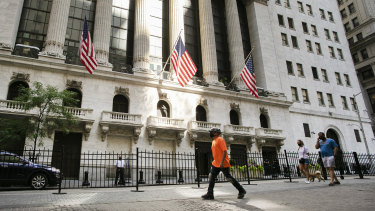 Sentiment in global markets remains upbeat, though trepidation can still be seen in price-action. US stocks capped-off Thursday's trade with a strong rally, with the US VIX holding its line around 23, following what was a broad-based decline in European bourses.
The primary concern in the market has largely stayed on the prospect of fresh US fiscal stimulus. Market participants remain confident it ought to arrive, despite both Republicans and Democrats affirming overnight little progress has been made on a deal, one-day out from when lawmakers had planned to finalise a deal.
US labour market data also added to the upbeat mood on Wall Street overnight. US jobless claims numbers were released, with the data revealing a lower than expected 1.18 million Americans sought unemployment benefits last week, and continuing jobless claims falling to multi-month lows.
In the day ahead, the RBA's Statement on Monetary Policy will be the highlight of the local economic calendar. The policy and economic update is expected to reveal a slightly more optimistic RBA on the outlook for the Australian economy, though little in the way of changes to its policy framework or guidance is expected.
The key focus for market participants will be digesting how the RBA's baseline economic forecasts have changed, especially in the context of a looming second-wave of COVID-19 infections in Australia.
Good morning – TGIF – and welcome to today's Markets Live blog.
Your editor today is Alex Druce.
A bit happening today, with earnings results flowing in, and the RBA to deliver its Statement on Monetary Policy later on. Gold and iron ore are surging, and the Aussie dollar is at 18-month highs.
This blog is not intended as financial advice.