Brisbane residents will soon be able to hop on a ferry at Howard Smith Wharves and be on Stradbroke Island in 40 minutes.
On Saturday morning Tourism Minister Kate Jones announced that three new pontoons would be built at a cost of $5.5 million, opening up direct trips from Moreton Bay islands to the popular Fortitude Valley entertainment precinct.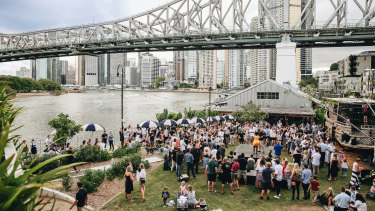 "The very first pontoon that will link the city of Brisbane to the bay will be open before the end of the year," Ms Jones said.
"This is part of our growing tourism infrastructure fund, where we have provided $5.5 million for the construction of three new pontoons here at Howard Smith Wharves.
"It's been the missing link in connecting Brisbane to the bay and our beautiful islands in Moreton Bay."
Ms Jones said that before Christmas, Howard Smith Wharves would become the gateway to Moreton Bay, with one pontoon open for business by then.
"This is something the tourism industry has spoken about for years," she said.
Ms Jones said the new pontoons would streamline access to the islands, which currently involves either catching a bus or driving to the coast before then catching a ferry.
"We are taking all of that away for people. You'll be able to come straight to Howard Smith Wharves and have a day trip out to the islands. This will be a game changer for our beautiful islands, including Stradbroke Island – Minjerribah – in Moreton Bay."
The pontoons will be available to commercial operators as pick-up and drop-off points, in a bid to increase tourism traffic to the islands and the city.
Local McConnel MP Grace Grace said the pontoons would be funded through the Attracting Tourism Fund and would provide additional through traffic to the Howard Smith Wharves and Eagle Street areas.
HSW chief executive Luke Fraser said it had been a "long-term dream" for the wharves to be part of the tourism sector to the islands.
"We can't wait to have passengers leaving from here before Christmas this year," Mr Fraser said.
Mr Fraser said the forced closure of the entertainment precinct during the start of the pandemic had been "heartbreaking", but it was good to be partially reopened.
HSW will invest in vessels to operate ferry services to and from the islands, and the state government is also in negotiations with Stradbroke's Quandamooka people, who are also interested in operating ferry services.
Lucy is the urban affairs reporter for the Brisbane Times, with a special interest in Brisbane City Council.