For a 14-year-old, Grace Alexander was doing pretty well. In February, the year 8 student at Wheelers Hill Secondary College, in Melbourne's south-east, had a cavoodle puppy, Billy, and a new part-time business making dog bandannas, Billy & Co.
Then coronavirus hit and while sales at Billy & Co boomed along with the "pandemic puppy" craze, Grace's mum, Peta, felt her daughter ought to do something to give back, especially since she also started making fabric masks.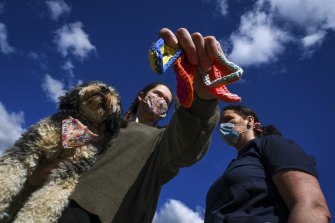 Peta Alexander had heard via one of the mums at the school where she teaches, nurse Michelle Robins, that front-line medical staff were experiencing great discomfort from wearing personal protective equipment (PPE) for long stints. Since the start of the pandemic, doctors and nurses have shared images on social media of indents and bruising left by masks around their cheeks and noses.
Another common problem is ear strain and pain caused by the elastic loops on masks, something most people have experienced, especially in Melbourne where masks have been mandatory since July.
While searching for a worthy charity or business for Grace to support, Peta stumbled on Karleen Murray, from Grafton, in northern NSW, who was selling "ear-savers" through her online crochet business, Rhinestone Mumma.
Crocheting has been one of the hallmarks of the "cottagecore" trend that has seen homespun hobbies rise in popularity during coronavirus. Murray says she has sold hundreds of ear-savers and patterns for people wanting to make their own.
Grace used some Billy & Co profits to buy a bag of Murray's ear-savers for Robins and her colleagues in Box Hill Hospital's COVID-19 ward. "I've seen so many other people struggling at the moment so I thought it was a good opportunity to donate and give back," Grace says.
A lifelong crocheter, Murray says it's amazing that "in times of pandemic and disaster you can rise up and make something amazing that's going to help people".
Robins, who's been a nurse for 15 years, says front-line medical staff have a tendency to tighten their PPE in high-risk spaces so she's grateful for something that has alleviated the stresses and strains of long-term mask use.
And for anyone not keen on crochet, there are plenty of other options available to alleviate the problem of "mask ear". A search for "ear-saver" on online marketplace Etsy returns 9000 results, ranging from headbands with buttons attached, to plastic head straps.
Physiotherapist Luke Pickett, of Melbourne Physio Clinic, says while he hasn't seen widespread problems from prolonged mask use, he says people with a tendency to tilt their chin forward may find the problem is exacerbated. As for ear strain, he says that's more of an "annoyance" than anything likely to cause any serious issues.
"People could hold a little more tension in their body – it's a foreign object – especially if you are wearing a mask that isn't placed well," he says.
A bigger issue, Pickett says, is whether the inconvenience and mild discomfort of mandatory mask-wearing in Victoria has deterred people from engaging in regular walking activity (runners are exempt from wearing masks during exercise).
If mask-wearing is causing any neck strain, Pickett suggests an upper-cervical stretch, which is performed by pulling the chin back towards the neck and holding for two lots of 30 seconds.
Get our Morning & Evening Edition newsletters
The most important news, analysis and insights delivered to your inbox at the start and end of each day. Sign up to The Sydney Morning Herald's newsletter here, The Age's newsletter here, Brisbane Times' here and WAtoday's here.
Melissa Singer is National Fashion Editor of The Sydney Morning Herald and The Age.
tinyurlis.gdv.gdv.htu.nuclck.ruulvis.netshrtco.detny.im