Parents are scrambling to arrange care for their children as the deadline for tough new lockdown rules approaches, leaving many ineligible for help.
The new regulations will come into force on Thursday, but by Wednesday afternoon the government had still not provided clear advice around babysitters and grandparents providing care.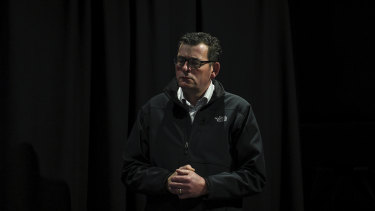 From Thursday, childcare services will only be available to children of permitted workers and vulnerable children under stage four restrictions imposed in response to Melbourne's second wave of COVID-19 infections.
However, many parents remain confused over the definition of permitted worker and whether they qualify.
Victorian Premier Daniel Andrews said a permit system would determine who was eligible to put their children in care.
"If you are a permitted worker … and you attest that there is no one else in your household that can look after your children, then you will be able with that very simple permit to access childcare," Mr Andrews said.
Mr Andrews conceded many parents who ordinarily accessed care would not be able to do so in the next six weeks.
"If I were to simply green light the best part of a quarter of a million kids going to and from childcare every day … then we will not drive these [infection] numbers down," he said.
Rules on nannies and babysitters would be clarified later on Wednesday, the premier said.
Parents who are blocked from using childcare services over the next six weeks of lockdown will be given 30 extra days of "allowable absences", or fee-free days, to prevent a damaging mass exodus from early education.
The extra 30 days would be available to all Victorian families, not just those living in Melbourne's stricter stage-four lockdown zones, Education Minister Dan Tehan said.
Mr Tehan said the federal government support would mean parents who were not permitted workers would not have to continue to pay gap fees to hold their place at a childcare centre. This would prevent parents withdrawing from care to save money, he said.
"And I would say to parents, please keep your children enrolled; it won't cost you anything to do so and it means when we come out of this pandemic those positions will be there for you at your childcare centre," he said.
But access to the extra allowable absences will be dependent upon centres agreeing to waive their gap fees.
Childcare centres can not by law be compelled to waive gap fees. Mr Tehan said the emergency childcare rescue scheme was meant to "incentivise" centres to do so.
To fund the extra allowable absences, childcare providers will get a 5 per cent "top-up" to payments they are currently getting as part of a $708 million transition payment scheme, brought in by the Morrison government after JobKeeper payments were cut off for childcare workers last month.
Services that experience an attendance drop of more than 70 per cent in the next six weeks will get a top-up payment of between 10 and 25 per cent on what they receive in the transition scheme.
The Morrison government said the support scheme would cost $33 million.
Mr Tehan said that on average childcare centres in Melbourne would receive between 80 and 85 per cent of their pre-pandemic revenue.
This would keep all centres viable and keep staff in a job, he said.
Get our Morning & Evening Edition newsletters
Adam Carey is Education Editor. He joined The Age in 2007 and has previously covered state politics, transport, general news, the arts and food.