We have made our live blog of the coronavirus pandemic free for all readers. Please consider supporting our journalism with a subscription.
Summary
Victoria recorded its deadliest day of the pandemic on Sunday, with 17 deaths. But Premier Daniel Andrews has warned Victorians not to read too much into Sunday's figure of 394 new cases which represents the state's lowest single-day tally in 12 days.
Two NSW schools are closed today after students were among the state's 10 new COVID-19 cases on Sunday. NSW Health is also advising people who attended a service at St Agatha's Catholic Church in Pennant Hills on Wednesday and Thursday to be alert for symptoms.
Hundreds of people caught partying on a far-north Queensland beach could face charges after allegedly breaching coronavirus restrictions early on Saturday. Up to 300 people held a raucous party complete with a stage and DJ near Wangetti Beach.
Confirmed coronavirus cases in the US hit 5 million on Sunday – a bleak milestone met with astonishment and alarm in Europe. Health officials believe the actual number is perhaps 10 times higher, or closer to 50 million, given testing limitations.
More than 19.7 million coronavirus cases have been confirmed worldwide, with more than 728,000 deaths, according to the tally by Johns Hopkins University. Nearly 12 million people have recovered from the virus.
Latest updates
No issues with PPE supply at Royal Melbourne Hospital, emergency doctor says
An emergency doctor at The Royal Melbourne Hospital says he believes there is enough personal protective equipment available for doctors and nurses, but some smaller hospitals may not have the resources to manage the supply chain.
As we reported on the front page of The Age today, peak organisations representing doctors and nurses surveyed their members and found 20 per cent have limited access to personal protective equipment including surgical masks.
Dr Jonathan Papson, who is also known as JPaps after an instructional video he made on wearing the equipment became a hit on social media, said his own hospital has a team devoted to ensuring the safety equipment was always available.
"I think there probably is enough gear out there, but at times, there'll be just little problems with the production line where they don't quite get to where they need to get to. You know, you have to do something in a hurry and where's the mask, where's the gear, where's the box?" he told ABC Radio National.
"We're fortunate at Royal Melbourne that we have a dedicated team who have spent a lot of effort, and tried very hard to make sure that our PPE never runs out.
"But I think if you go to a smaller place, yeah it's going to be difficult. I mean, who's doing that, who's got the time to do that? Who's investing in ensuring the PPE supply line stays intact?"
There are now almost 1000 Victorian health workers with COVID-19. Dr Papson said he and his colleagues were worried about contracting the virus, which was why they took wearing the safety equipment seriously.
"Although, you know we've been wearing PPE for a long time. Royal Melbourne has a long history of having infectious diseases, so it's just one of those things you do."
Watch live: Queensland Premier addresses the media
Queensland Premier Annastacia Palaszczuk and Health Minister Steven Miles are due to hold a press conference at 9am in Brisbane. You can watch their press conference live below:
Queensland health authorities are cautiously optimistic the state has avoided a large COVID-19 outbreak after two women were infected with the virus in Melbourne and travelled to Brisbane on July 21.
If no cases are reported today, Chief Health Officer Jeannette Young says she might be able to say Queensland has avoided the worst.
Nobel Prize-winning immunologist says COVID-19 vaccine 'very, very likely' within a year
Now here's something to smile about – esteemed Melbourne immunologist and the namesake of the Doherty Institute, Professor Peter Doherty, is very optimistic about the arrival of an effective COVID-19 vaccine.
Professor Doherty told Melbourne radio station 3AW that he believes there's an 80 per cent chance we'll have a vaccine in 12 months.
"I think it's very, very likely. I reckon we'll get there. We've avoided a lot of traps we kind of found out about … over the years," Professor Doherty said.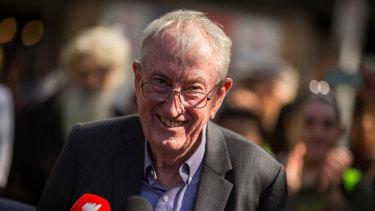 "There are a couple of vaccines that are right up in what we call phase three trials which means they're in 10,000 to 30,000 [people] who are out there in the community where they're likely to be exposed to the virus."
Professor Doherty said finding a vaccine for COVID-19 was a much easier task than failed attempts to develop a vaccine for the AIDS virus.
"AIDS is a much tougher problem because the virus changes [mutates] all the time, unlike COVID which doesn't change much," he said.
He also mentioned there was a great deal of work being done to develop "fast tests" for COVID-19, which can show results almost immediately.
"There's a tremendous amount of work being done … but they've got to be validated," he said.
In another nugget of reassuring news, the distinguished Professor said there was now growing evidence that people were unlikely to be infected with the virus twice.
"I don't think there's good evidence of people being reinfected," he said.
He said that even in rare cases where reinfection occurred, the secondary illness was usually a "much much milder infection".
Meanwhile, an Australian startup developing a coronavirus vaccine has urged the government to ensure small firms are given development deals alongside pharmaceutical giants.
Of more than 160 vaccine candidates around the world, the tie-up between global biotech CSL and the University of Queensland is considered a frontrunner.
However, smaller firms have also been involved in the development of possible candidates, including South Australian startup Vaxine, which is hoping to become one of the top five vaccine programs worldwide over the next three months.
Read more here.
Up to 300 revellers party on Queensland beach
Queensland police were forced to break up a huge beach party on the weekend with a DJ, stage and up to 300 revellers.
Partygoers could now be fined for breaching coronavirus restrictions.
Officers headed to Wangetti Beach, about 40 kilometres north of Cairns, on Saturday morning after a number of complaints from community members.
They found people camped illegally, drinking alcohol on the beach, and a DJ playing loud music from a stage.
The crowd was broken up, with police unplugging the speakers, conducting breath tests and tipping out "large quantities" of alcohol.
"A large section of the crowd became unruly and hostile towards police with additional resources necessary to retain control of the situation," police said in a statement.
A 35-year-old Cairns North man was arrested and charged with one count each of possession of a dangerous drug, possession of suspected stolen property, public nuisance and two counts of obstructing police.
Two other men were issued with notices to appear in court for alleged drink driving, with a number of others fined by the council for camping illegally.
Far North District Acting Superintendent Mark Linwood said police showed patience and tolerance in dealing with the large crowd, with investigations continuing around any breaches of the state's public health directions.
People who breach the directions can face on-the-spot fines of $1334. Under the third stage of eased restrictions in Queensland, events with fewer than 500 guests do not need approval provided they are following a COVID-Safe event checklist.
Where's Mr Bright-side? RBA isn't pretending it will all be fine
Economics editor Ross Gittins tells us this morning that economists are no longer pretending to be certain it'll all be fine.
Here's a taste of his latest assessment of Australia's economic recovery from the pandemic:
Central bank governors take a professional pride in concealing whatever doubts and fears they have. Which is as it should be. Treasurers, on the other hand, have become so ruled by their young spin doctors they're perpetually in bulldust-your-way-through mode.
Economists (and media economic commentators) always exude confidence about their knowledge of what lies ahead because they know that's what the customer's paying for. They're like doctors who dispense pills not because they'll work but because they're what will make the patient feel good. At least until they're out of the surgery.
The new forecasts the Reserve Bank issued on Friday were significantly different to those it issued three months ago. Worse, they laughed at Treasury's forecasts in the economic update just two weeks earlier.
The general story is that, thanks to the setback in Victoria, the upturn in the economy's production (real gross domestic product) will now come later than expected, and be weaker.
Read more here.
Today's editorial: 'We need all the patience, kindness we can summon'
Here's a taste of today's editorial in The Age and The Sydney Morning Herald:
For most Australians, the concept of learning to live with COVID-19 involves curtailing daily movements, reducing contact with extended family and friends and establishing routines to ensure we are cutting the risk of exposure to and spreading of the virus.
But for thousands of others, the prospect of many more months or even years of increased isolation is debilitating. It's not just the increased loneliness, vulnerability and adverse impacts to regular support networks; there are also very real threats to job security for thousands for whom work is not only a financial lifeline but a safe haven.
Support services are coming under increasing demand in Victoria since its return to stage four lockdown conditions, while there is simmering anxiety in NSW about what the future holds. Fear of having to return to lockdown if a hitherto undetected caseload is revealed may on the one hand fuel our vigilance but is adding further weight to already-heightened levels of stress about the future of the economy.
But it's important to note the situation is not hopeless. We are living through a painful and protracted work-in-progress together, all 26 million of us. All levels of government are highly engaged in ensuring people are not only supported financially but also emotionally through the provision of these vital mental health services.
If you or anyone you know needs support, call Kids Helpline 1800 551 800, Lifeline 13 11 14, Mensline 1300 789 978 or Beyond Blue's coronavirus mental wellbeing support service on 1800 512 348.
Read more here.
Dachshund's incredible journey home thwarted on last leg
This morning, the Herald's senior writer Tim Barlass brings us the story of Pip, the dachshund.
Pip was due to fly into Sydney on Saturday afternoon following a five-month pandemic-induced separation from her owners.
But after a 17,000-kilometre journey which started in South Carolina in March and took in numerous temporary homes and periods of quarantine, Pip is now stranded in Melbourne.
Zoe Eilbeck, her husband Guy and sons Cam, 13, and Max, 8, sold their Frenchs Forest home in 2016, flew to Greece and purchased a 40-foot yacht in Croatia for a literal seachange. They later welcomed Pip, then a puppy, aboard.
In December 2018, they crossed the Atlantic from the Canary Islands to Barbados then sailed the east coast of the US. They were tied up in Key West in March planning a Pacific crossing back home when COVID-19 disrupted their plans.
The Eilbecks sailed from Key West to South Carolina, where they abandoned ship to fly home. As it would take time to organise the necessary paperwork to bring Pip back to Australia, they put out a call on social media for people to look after her in the meantime.
Ellen Steinberg, who lives in Hillsborough, North Carolina, fostered Pip for most of her stay in the US.
Last month Pip flew to Auckland via Los Angeles before reaching Melbourne on July 24. She spent 10 days in a Mickleham quarantine facility and should have flown on to Sydney on Tuesday but that flight was cancelled. She then stayed with Mrs Eilbeck's brother in West Brunswick.
"We were going to drive down and pick her up because she had already done four flights, poor little dog," Mrs Eilbeck said.
However, the closure of the border between Victoria and NSW prevented this.
Mr Eilbeck said: "I can't believe we've managed to get her all the way across America on the kindness of strangers only for her to get stuck in Melbourne."
Pip is booked on a flight to Sydney for Monday night. Let's hope this family is reunited tonight.
Victoria, NSW, Qld by the numbers
While we await today's figures, let's take a look at how NSW, Queensland and Victoria fared over the weekend:
Victoria recorded 860 new cases of COVID-19 over the weekend (466 on Saturday, 394 on Sunday). Premier Daniel Andrews announced 12 deaths were recorded on Saturday, while 17 deaths were reported on Sunday – Victoria's deadliest day of the pandemic so far.
A man in his 30s was among the Victorians who lost their lives. He was the second man in his 30s to die from the virus last week.
Premier Daniel Andrews warned Victorians not to read too much into Sunday's figure of 394 new cases which was the state's lowest single-day tally in 12 days.
NSW recorded 19 new cases (nine on Saturday, 10 on Sunday), including several school students, which has prompted the closure of at least three schools.
Meanwhile, Queensland enjoyed a weekend of zero new cases, indicating the state may have avoided a major outbreak after two women who contracted the virus in Melbourne flew into Brisbane on July 21. Chief Health Officer Jeannette Young says that if no cases are recorded today she might be able to say Queensland had avoided the worst. Queensland has a total of 11 active cases, four of whom are in hospital.
Victoria's case numbers to be announced on Twitter each day
The way Victorians get their updates on the state's tally of new COVID-19 cases and deaths is about to change.
From today, the government will release the new cases numbers via the Department of Health and Human Services' Twitter page (@VicGovDHHS), ahead of Premier Daniel Andrews' daily press conference.
The Premier's press conferences attract a huge audience each day as Victorians anxiously await news of the daily figures.
Front pages of The Age and The Sydney Morning Herald