We have made our live blog of the coronavirus pandemic free for all readers. Please consider supporting our journalism with a subscription.
Latest updates
Latest figures from Victorian Health Department
The Victorian Health Department has released its breakdown of the latest coronavirus figures from today. It notes that there are 7449 active cases in Victoria, with 575 people in hospital, including 42 in intensive care. So far 5628 people have recovered from the virus.
The following outbreaks have increased today:
196 cases linked to Bertocchi Smallgoods in Thomastown (up from 189)
122 cases linked to JBS Brooklyn (up from 86)
89 cases linked to Melbourne Health Royal Park Campus (up from 81)
83 cases linked to Australian Lamb Company in Colac (up from 80)
59 cases linked to Woolworths Distribution Centre Mulgrave (up from 57)
43 cases linked to Nino Early Learning Centre in Bundoora (up from 39)
37 cases linked to Catholic Regional College in Sydenham (up from 36)
31 cases linked to Golden Farms Poultry in Breakwater (up from 28)
30 cases linked to Respite Services Australia in Moonee Ponds (up from 29)
The department is also looking into a new outbreak linked to Caroline Chisholm Catholic College in Braybrook.
'Just going to have to wing it': Parents grapple with childcare lockdown
Zoom meeting, put Toy Story on the TV, Zoom meeting, change a nappy, Zoom meeting.
This could be the pace of Melbourne father of two Danny Whelan's days for the next six weeks if he loses his bid to be categorised as a "permitted worker" under the Victorian government's new stage four restrictions.
The new rules remove access to childcare for all but the vulnerable and households of permitted workers.
While Mr Whelan's wife Katie is a nurse – a permitted worker – he oversees a large-scale online software project for a government department from home.
As of Thursday – the first day of restrictions – the Whelan family was one of many in limbo over whether they qualify to access care for their children, Pippa, 1, and Phoebe, 5.
Read the full story here
Distribution centres expected to scale back operations
Like Victoria's abattoirs and meat processing plants, supermarket distribution centres are expected to scale back their operations.
As we have just reported, the government has given supermarkets until Sunday to plan how they will manage their distribution centres during Melbourne's stage four lockdown.
"Instead of them delivering this reduction in workforce by midnight tomorrow night, they'll deliver that by midnight Sunday," Premier Daniel Andrews said at his press conference earlier today.
"We think that's a sensible balance for us to be able to strike."
Positive COVID-19 cases have already been linked to Woolworths and Coles distribution centres in Victoria during the state's second coronavirus wave.
But the Premier again warned people against panic buying.
"These specific plans are about trying to strike a balance between driving down the number of people that are going to and from work [and] the number of people who are congregating for work in one place, but also making sure that there is enough food on the shelves," he said.
"There's no need for people to be going out and buying up. There's no need for people to be trying to stockpile months and months of food.
"We have … tried to get that balance [right] between reducing the amount of movement, therefore reducing the number of cases, but not compromise what you need being on the supermarket shelves."
'Morally obscene': Sanders wants to tax billionaires' gains in the pandemic
US Senator Bernie Sanders said he will introduce legislation to tax what he called the "obscene wealth gains" from billionaires during the coronavirus crisis.
Sanders, a self-described democratic socialist, made the announcement in a Twitter post on Wednesday evening. Last year, while running for the Democratic presidential nomination, Sanders embraced a proposal that would tax fortunes above $US32 million ($44.4 million) at 1 per cent, with an increasing rate that would top out at 8 per cent over $US10 billion.
This time, he's directed his focus to the profits billionaires have made since the COVID-19 crisis started. Sanders wrote that a 60 per cent tax on the windfall gains from 467 billionaires between March 18 and August 3 could raise more than $US420 billion, which he said would be enough to allow the national health insurance programme Medicare to pay all out-of-pocket health-care expenses for everyone in the US in the next year.
Read the full story here
Tradies allowed to move between sites as stage four building rules altered
The Andrews government has clarified the rules for residential construction, allowing tradies to work between sites and architects to inspect construction in some circumstances.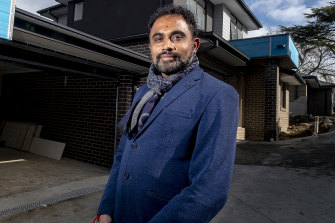 Homebuilders feared they would have to shut down completely during stage four restrictions after Premier Daniel Andrews announced that construction workers would only be allowed to attend one work site for six weeks from 11.59pm on Friday.
But after a "very long night" of consultations, Mr Andrews clarified that some tradies would be allowed to move between work sites when necessary.
Homebuilders in Melbourne would still only be allowed five people on-site at any one time and crossover shifts will be banned for the next six weeks.
Platinum Developers managing director Ghan Bavadiya is trying to finish 170 townhouses at 10 different sites in Melbourne's outer suburbs.
Seventeen townhouses in Mooroolbark were supposed to be finished within weeks, with only their internal fit-outs left to complete.
"Now it will go beyond [deadline]," Mr Bavadiya said on Wednesday.
Read the full story here
NSW Health issues notices for three more venues after Mounties cluster
NSW Health has issued notices for three venues in Sydney's west and south-west after visits from a confirmed case of COVID-19 on Saturday August 1.
A new case, a male in his 20s from south-west Sydney, visited Westfield Penrith Plaza from 10.30am to midday, Master Hot Pot in Canley Vale from 1pm to 2pm, and BBQ City Buffet in Bankstown from 7pm to 8.30pm.
The man is a close contact of a previously reported case associated with the Mounties cluster.
People who were at these venues at those times are considered casual contacts and urged to be alert for symptoms, and if any develop to get tested and self-isolate immediately:
NSW Health has also added an additional day of exposure risk for patrons of Mounties Club, after a previously reported case visited the venue on Sunday July 26 from 4pm to 7pm.
The total range of exposures for Mounties are:
Monday July 20: 12.01am to 2.30am
Tuesday July 21: 12.15pm to 5.30pm and 8pm to midnight
Wednesday July 22: Midnight to 12.30am and 7pm to midnight
Thursday July 23: Midnight to 3am and 7pm to midnight
Friday July 24: Midnight to 3am, 11am to 3.30pm, and 7pm to midnight
Saturday July 25: Midnight to 3am and 4pm to 7pm
Earlier today, NSW Premier Gladys Berejiklian urged young people to cut back on socialising after a man in his 20s visited seven venues last weekend while infectious with COVID-19, triggering a potential outbreak in Sydney's inner west.
Of most concern to health authorities is the man's visit to Jambo Jambo Restuarant in Glebe on 31 July between 7pm and 8.30pm.
Compromise reached between supermarkets and Victorian government
A compromise has been hammered out between the supermarkets and the Victorian government to allow the state's food supplies to flow while the strict Stage 4 lockdowns are in force.
Distribution centres, which are vital to keeping supermarket shelves stocked, have been given a few more days – until Sunday – to get organised, and the required workforce reductions can be satisfied by cutting staff from other parts of the business, like in-store merchandising, for example.
There's no official word yet from the big grocery players but early indications are that they can live with the revised restrictions.
The deal comes after Prime Minister Scott Morrison said he had passed on advice "very frankly and very fully" to the Victorian government about industry supply chain concerns.
The Prime Minister said he was concerned on a "number of levels" around critical supplies, particularly with food, and the knock-on effects for supply chains in other parts of the country.
Rabbitohs coach ordered to self-isolate for two weeks
The NRL has informed the South Sydney Rabbitohs that their head coach Wayne Bennett must remain in self-isolation until Wednesday August 19th, after he was spotted breaching the NRL's COVID-19 bubble.
Assistant Coach Jason Demetriou will take charge of the team during this period.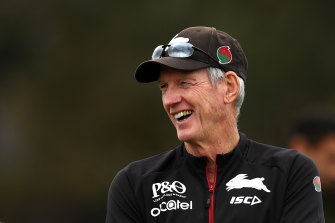 "The Rabbitohs and Wayne Bennett accept this action from the NRL and will comply with its ruling," the club said in a statement.
Nick Scali shares soar after lockdown spending prompts profit upgrade
Australians stuck at home in the pandemic splurged on new lounge sets and dining tables throughout June and July, prompting furniture retailer Nick Scali to predict a spike in profits for the December half.
The company told investors on Thursday it expects earnings to jump between 50 and 60 per cent for first half of its 2021 financial year, sparking a nearly 20 per cent rally in its share price. The bullish outlook came with a caveat that there would be no further extensions to the six-week lockdown in Melbourne, nor any further supply chain delays that could affect deliveries.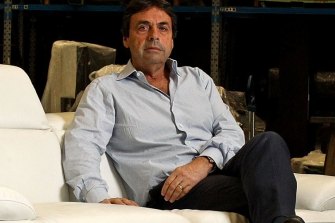 "In recent months, the furniture industry has experienced unprecedented year on year growth as consumers reallocated their spending into the home given an inability to travel, combined with an increased amount of time spent at home," managing director Anthony Scali said.
The boom in the new financial year follows a muted full-year result which the company reported on Thursday, with revenue for the 12 months to June 30 down 2.1 per cent to $262.5 million and net profit flat at $42.1 million.
These results were ahead of analyst forecasts and the company's own profit guidance, and was largely achieved by a $5 million reduction in costs, primarily in marketing and property expenses.
Read the full story here
Jayco factory now linked to at least 18 cases
At least 18 cases are now linked to an outbreak of COVID-19 at a Jayco factory in Melbourne's south-east.
More than 200 employees of the caravan maker have been tested after the first positive case was recorded at its Dandenong facility on July 30.
Jayco said it had closed the workplace, conducted deep cleaning and informed WorkSafe after learning of the positive test.
The factory and office will remain closed in line with the state government's stage four restrictions on workplaces.