We have made our live blog of the coronavirus pandemic free for all readers. Please consider supporting our journalism with a subscription.
Pinned post from
WATCH: Victorian Premier gives a coronavirus update
Latest updates
Nine of today's 15 deaths occurred outside of reporting period
By

Paul Sakkal
Premier Daniel Andrews has begun his daily media conference by confirming 113 new cases and 15 additional deaths have been added to Victoria's totals.
There have been 591 deaths in the state and there are now 2295 active cases in Victoria, a drop of about 100 from yesterday.
The deaths include four men and three women in their 80s and two men and six women in their 90s.
Nine of the deaths occurred prior to yesterday but have only just been reported to the Health Department, and 14 of the 15 deaths are linked to aged care.
About 17,000 tests were recorded in the past 24 hours and 24 cases have been added to the total of those with no known source of infection. More than 82,000 negative test results, which did not occur yesterday but have belatedly subsequently accounted for, have been added to the total number of tests.
There are now 361 people with COVID-19 in Victorian hospitals, about 40 fewer than yesterday, including 20 in intensive care, two more than yesterday.
Mr Andrews pleaded with Victorians to get tested if they had even mild symptoms in order to ensure health authorities had a clear picture of how much infection there was in the state before a potential re-opening.
He said tests results were, on average, being returned within 24 hours. He also said testers could go to people's homes if they cannot attend a testing facility.
"If you've got any symptoms, even the mildest of symptoms, please come forward and get tested at one of the more than 190 test sites across the state," Mr Andrews said.
"It is critically important, central in fact, to opening up because it is at the heart of us understanding and having the clearest picture about how much viruses out there."
Neymar third Paris Saint-Germain star to test positive: reports
Soccer star Neymar is one of three Paris Saint-Germain players who have tested positive for the novel coronavirus after taking a holiday in Ibiza, Spain, according to reports.
The 28-year-old is in isolation for two weeks at his house in Bougival, just east of Paris, after receiving his test results on Wednesday, the Washington Post reports.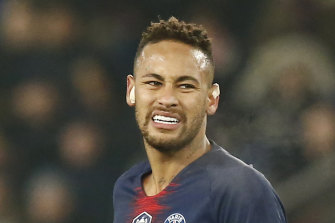 He will miss PSG's first Ligue 1 game of the season on September 10 against Lens and the Classique against Marseille on September 13.
PSG's Angel Di Maria and Leandro Paredes, who also holidayed on the Spanish island, have tested positive and are in self-isolation. The club confirmed the positive results but did not reveal the players' names.
Victorian opposition says leaked blueprint 'a betrayal'
By

Sumeyya Ilanbey
The Victorian Opposition has railed against a draft blueprint that suggested stage four restrictions in Melbourne would be extended by a fortnight, with leader Michael O'Brien accusing the Premier of "snuffing out hope".
Under the draft plan, Melbourne's 8pm curfew would remain in place for an additional two weeks along with strict business restrictions and limits on residents' travel. But the state government has stressed that the report is out of date.
Opposition leader Michael O'Brien said the draft document "represented a betrayal of Victoria" and undermined the promises made to Victorians about easing coronavirus restrictions.
"Victorians have done the hard work, we've made the sacrifices we've been told we have to make," Mr O'Brien said. "Daniel Andrews wants to just extend stage four and give us nothing … it's just so bloody unfair, Victorians have given up so much. The government promised a roadmap out of restrictions, instead the only plan is to keep us locked down."
When asked what Mr O'Brien would have done to guide the state out of the current restrictions, when Victoria has still been recording high cases, he said he had released his "road to recovery" plan on Wednesday.
However, he could not reveal what he believed an appropriate daily case rise was to trigger the easing of restrictions.
"The numbers are down, the numbers are down. They are down and they are trending down, and you know the infections are lagging indicators. We know that. We know that by two weeks' time there is no reason why those numbers should not be down low," Mr O'Brien said.
"Other states have been able to open up safely and securely without the draconian level of restrictions Victoria has."
His senior frontbench MP, Tim Smith, said the government needed to release its overarching strategy and policy, and questioned whether Victoria was now going for an elimination strategy.
"Of course there are going to be restrictions in two weeks' time. But locked at our houses for 23 hours a day? It does seem extreme," Mr Smith said.
When asked if it was appropriate to get out of stage four restrictions after Victoria reported 113 new coronavirus cases on Thursday, he said: "I would hope so. I think a lot of Victorians would hope so. Let's see what they're like in two weeks' time."
Heads of government security contractors before hotel quarantine inquiry
By

Tammy Mills
As we wait for Premier Daniel Andrews to begin his press conference: hearings in the Victorian inquiry into hotel quarantine are on again today, with the bosses of the main government contracted security firms giving evidence.
MSS Security's Jamie Adams and Sam Krekelis, along with Unified Security Group's Nigel Coppick and Mo Nagi will take the (virtual) stand today.
MSS Security, Unified Security and Wilson Security were the three main security companies the Victorian government contracted to work in the hotels. Unified Security was the preferred contractor out of the three, overseeing security at 13 hotels.
Questions have been raised in the inquiry as to why the Department of Jobs, Precincts and Regions chose the company when they were not on the government's preferred security suppliers panel.
The inquiry also heard stand-offs between a major security company and a state government department over the role security guards played in hotel quarantine led to the company being labelled "difficult".
Wilson Security regional general manager Greg Watson told the Victorian inquiry into the quarantine program he thought he was escalating "fair and reasonable" concerns to the Jobs Department.
In internal emails, Jobs Department officials called the firm "difficult" and appeared to favour Unified Security.
"I didn't realise that we had won the reputation of being difficult to deal with at that point in time," Mr Watson said. "I think what we were pointing out were fair and reasonable in relation to infection control measures and indeed the powers of the security officer."
'It is not possible': Festival X canned for 2020
By

Nathanael Cooper
Electronic and hip hop music festival Festival X is the latest summer music event to fall victim to the coronavirus pandemic.
The one-day festival, which launched in November last year with dates in Brisbane, Sydney and Melbourne, has been cancelled due to the ongoing border and social distancing restrictions in Australia.
"After an incredible first year, we regret to inform you that this year's Festival X will not be going ahead. We have been closely monitoring the local and global situation and out of an abundance of caution for fans, artists, partners, crew and staff, it has become clear that it is not possible for this year's event to go ahead this December as planned," organisers said in a statement.
Last year's festival hosted international acts such as Armin Van Buuren and Calvin Harris alongside local stars including Thandi Phoenix and Alison Wonderland, who headlined one of the festival stages.
Festival X's cancellation follows a number of major music festival cancellations this year. CMC Rocks, BluesFest, Splendour in the Grass, Woodford and Port Fairy folk festivals, Strawberry Fields, Listen Out, the Gympie Music Muster, Groovin The Moo and Day on the Lawn have all called it quits for 2020.
Last month Falls Festival abandoned their plans for an all-Australian line-up in December and January.
The only major festivals yet to make announcements on their future are the Meredith Music Festival in Victoria, which is scheduled for December 11 to 13, and Field Day in Sydney, which is held on New Year's Day.
AFL grand final crowd numbers not certain, says Queensland Health
By

Toby Crockford
The number of fans who will watch the AFL grand final in person at The Gabba in Brisbane is not certain, despite a 30,000 capacity being flagged during Wednesday's announcement.
Queensland chief health officer Dr Jeannette Young said the continued control of the cluster in the state's south-east, linked to the Brisbane Youth Detention Centre and Corrective Services Academy, is crucial.
"Today, you can have 20,000 people at The Gabba and that's been done multiple times and very safely," she said.
"So the plan is, depending where we are in Queensland on October 24, we will make a decision whether it's safe to have that 30,000.
"You've got to remember that all of these plans were developed when we had no community cases, no community transmission in Queensland and things looked pretty good going forward.
"But now we've had this particular cluster, I think due to those three women who went to Melbourne, we've had to adjust that and we're working that through with the AFL.
"We're starting to see some control over this current cluster. We will keep on testing and we're testing large numbers of Queenslanders, which is excellent, so we make sure we're not missing any chains of transmission out there, then we should be able to have that 30,000.
"But that 30,000 is not an absolute given today, the 20,000 is – unless we have a complete disaster in terms of case numbers."
Cheap steroids can help the sickest coronavirus patients, studies reveal
New studies confirm that multiple types of steroids improve survival for severely ill COVID-19 patients, cementing the cheap drugs as a standard of care.
An analysis of pooled results from seven studies, led by the World Health Organisation and published on Wednesday by the Journal of the American Medical Association, found that steroids reduced the risk of death in the first month by about one-third compared to placebo treatment or usual care alone in these seriously ill patients who needed extra oxygen.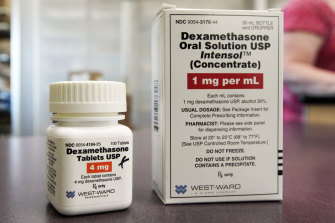 "This result opens up more choices" of steroids, said Dr Martin Landray of the University of Oxford, who led one of the studies. "The more options there are in terms of availability, the better."
Dr Anthony Gordon of Imperial College London called the result "a huge step forward," but added, "as impressive as these results are, it's not a cure".
Two new cases linked to Queensland cluster, including aged care worker
By

Toby Crockford
Queensland's two new coronavirus cases overnight are linked to each other and believed to be connected to the existing cluster originating from the Brisbane Youth Detention Centre and Corrective Services Academy, according to Deputy Premier Steven Miles.
The new patients are a man and woman in their 30s, but one of them works at Karinya Place aged care home in the Lockyer Valley town of Laidley, about 63 kilometres south-west of Brisbane.
The facility has "done everything that has been asked of them" and health officials have praised the response of the aged care home management.
In a statement on Thursday, the facility's parent company, Carinity, said the staff member was in home quarantine and "did not work while experiencing any symptoms".
"A resident and a small number of staff who had contact with the affected staff member have been advised by Carinity and Queensland Health and are self-isolating as a precaution," Carinity said.
"Testing of residents and staff commenced overnight and will continue today [Thursday].
"Mr Miles said 14,273 tests were done across the state on Wednesday, which is "promising and can give us confidence".
He was also buoyed by the fact that almost two weeks since the Brisbane Youth Detention Centre and Corrective Services Academy was first discovered, there had only been "small numbers of cases amongst those who have had contact with other confirmed cases".
Queensland has 30 active cases and the total number of virus patients since the pandemic arrived has risen to 1128.
Victorian Premier to speak at 10.15am, NSW at 11am
Victorian Premier Daniel Andrews will give his daily update at an earlier time of 10.15am today.
There were 113 new coronavirus cases in Victoria during the latest 24-hour reporting period, and 15 deaths. That's a slightly higher figure than we have seen for the past three days, which have had case totals below the 100 mark.
We expect Mr Andrews will also be addressing the leaked early draft of Victoria's roadmap to recovery.
NSW Premier Gladys Berejiklian will be giving a press conference at 11am. It is technically about Sydney's the M4-M5 Link Tunnels, but we will be bringing it to you live as she will likely also be answering questions on the pandemic.
Sign up to our Coronavirus Update newsletter
Get our Coronavirus Update newsletter for the day's crucial developments and the numbers you need to know. Sign up to The Sydney Morning Herald's newsletter here and The Age's here.
tinyurlis.gdv.gdv.htu.nuclck.ruulvis.netshrtco.detny.im