We have made our live blog of the coronavirus pandemic free for all readers. Please consider supporting our journalism with a subscription.
Latest updates
Federal government sour on Andrews' plans
By

Jennifer Duke

and

Mike Foley
Business owners are not alone in their frustration with the Andrews government's decision to extend the state's tough lockdowns.
Prime Minister Scott Morrison, Treasurer Josh Frydenberg and Health Minister Greg Hunt said in a joint statement on Sunday afternoon that Victoria's performance on contract tracing was particularly concerning and the new road map would have difficult economic consequences.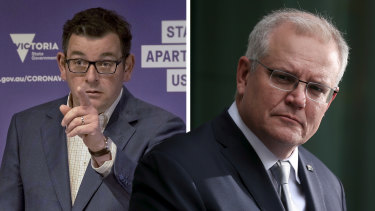 The road map extends the lockdown for two weeks, which the Morrison government warned would "come at a further economic cost". It will work directly with business and industry "to understand their concerns and seek to ensure they are addressed".
Tensions between the federal and state governments were on show in Canberra over the past two sitting weeks with Mr Morrison and Mr Frydenberg both airing frustrations with Mr Andrews' handling of the outbreaks.
The road map has seen differences of approach flare up again, with Nationals leaders slamming the plan for its "one-size-fits-all approach" that places the same restrictions on regional towns with low infection rates and higher risk urban centres, and business groups concerned about companies going under.
"You can't treat the whole of regional Victoria as a singular entity for COVID-19 recovery," said Deputy Prime Minister and Nationals leader Michael McCormack. "Reopening the border at Mildura should not be reliant on case numbers in Wodonga."
The Morrison government said it would consider the Victorian modelling on the spread of the virus being provided to federal experts and wait for their advice.
Read more here.
Businesses devastated by Victoria's road map
Business owners are reeling after yesterday's announcement about the extension of Melbourne's tough stage four lockdown.
Wesfarmers boss Rob Scott has warned the extended lockdown in Victoria will extract a terrible toll on the state's economy, adding that the state's recovery road map creates more confusion for the public and businesses.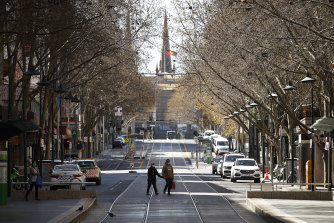 "I worry that this latest announcement creates more uncertainty and hardship and will inflict a greater personal and economic cost, not just to the people of Melbourne but the whole of Australia," he said.
While he acknowledged the need for the Andrews government to take heed of the medical advice, Mr Scott said the state government had failed to adequately consider the needs of the broader business community.
"To develop a better plan would require the Victorian government to engage in genuine consultation; to listen and learn about industries that are outside their expertise, including how businesses have evolved to be COVID-safe," he said.
"The government has introduced new thresholds (with a daily average of less than five new cases state-wide over 14 days) as a pre-condition to reopening. It will be impractical for many retailers to plan for and trade through such uncertainty at what is normally the busiest time of the retail year."
Business Council of Australia chief executive Jennifer Westacott said: "Businesses need predictability, they need to know basic things like what to order in time for Christmas."
Those sentiments, widely echoed by industry groups, is not entirely shared by National Australia Bank chief executive Ross McEwan, who said that Victoria's economy must emerge from the stage four lockdown cautiously.
Read more here.
Readers' Poll: What do you think about Victoria's road map for easing restrictions?
So far, nearly 50 per cent of respondents to our poll say the Andrews government has struck the right balance in its plan for easing restrictions in Victoria.
What do you think?
COVID-19 pressure could permanently close Geelong refinery
By

Lucy Battersby
Viva Energy may permanently close its Geelong oil refinery given the long-term downturn in demand for oil products, leaving 700 people out of work and just three oil refineries in Australia.
The refinery is currently under maintenance and working at reduced capacity, but could be back at full production by November if the timetable out of lockdown is followed. It supplies about 50 per cent of Victoria's fuel as well as bitumen and solvents.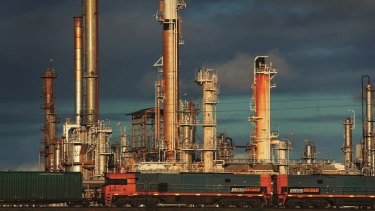 Viva is working with the federal government, but says it cannot ignore the fall in demand, which is threatening the viability of all refineries in Australia.
"The company is assessing other options to address operating losses, including the possibility of moving to a full shutdown of the facility,'' it said.
A decision would be made by the next trading update in October. Viva Energy said it has invested more than $600 million in the refinery in the past six years.
"Unfortunately, the impacts of COVID-19 and the restrictions on mobility and the economy are putting extreme pressures on the refining business that we have not experienced before and are not sustainable over the longer term. We are closely monitoring the evolving situation and will continue to keep our employees, investors and stakeholders updated.''
When operating at full capacity, the Geelong refinery processes bulk fuels and aviation fuels used at 50 airports and airfields around the country.
Meanwhile, Viva Energy says its petrol retail business "continues to show resilience" despite the Victorian lockdown and it is encouraged by the ongoing recovery in other states and territories. It expects Victoria to recover on a similar trajectory once restrictions ease.
"While the government's announcements yesterday provide only directional guidance on easing restrictions, we are confident in the performance of the retail and commercial businesses throughout this extended period of restrictions,'' the company told shareholders this morning.
Viva shares last traded at $1.60 and have lost 16.7 per cent of their value in 2020.
Read more on our Markets Live blog here.
Victoria could come out of hard lockdown faster than road map says: WHO adviser
Professor Mary-Louise McLaws, epidemiologist and a COVID-19 adviser to the World Health Organisation, says health authorities may decide to speed up the plan to reopen the state in late October if case numbers are very low.
Under the government's plan, the state will move into its third phase of recovery (where there is no curfew, no stay-home orders, all students return to classrooms and five people can visit a home) if there are fewer than five cases statewide in the preceding two weeks.
Professor McLaws said the state needed to be in hard lockdown until September 28, but questioned whether this would be required beyond late October if cases were below five per day.
She said authorities could decide to move ahead of the current road map and push into stage two or stage one restrictions by late October.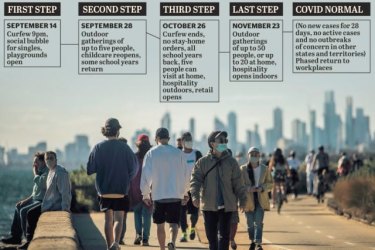 "I can't see that you'll be in lockdown past that, if all goes well," she told radio station 3AW.
Professor McLaws, who called for a federal contact tracing system, said the thresholds Victoria was aiming for were not being met by other states with much looser sets of rules.
"Most states don't achieve [zero cases] … It's very difficult to get that," she said.
Queensland budget thrown into the red by COVID
By

Stuart Layt
Queensland's bottom line has collapsed due to the impact of the global pandemic, Treasurer Cameron Dick has revealed.
At a special budget update on Monday, delivered two months out from the Queensland election, Mr Dick revealed the state had gone from a projected surplus of $234 million to a deficit of $8.1 billion.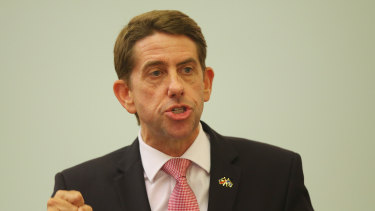 The state's total debt, which includes that held by government-owned businesses will blow past $100 billion, expected to hit $102 billion by June 2021.
Mr Dick insisted that no other jurisdiction in Australia measures debt in that way, and said his measure of debt, without the liabilities from state-owned companies, was expected to be $60.9 billion by next June.
He said despite the blow to the budget bottom line, the government would continue to borrow to help Queenslanders through the pandemic recovery.
Mr Dick announced Queensland would borrow $4 billion for broad-scale stimulus activity, and would also work with local councils to refinance any loans they had on more favourable terms.
'This is very, very difficult for business': Jobs Minister
By

Paul Sakkal
Victorian Industry Minister Martin Pakula says differing points of view were expressed by cabinet ministers when they decided on the state's reopening plan.
He also defended the government's consultation with business groups that have savaged the government's road map.
Mr Pakula said cabinet ministers brought different perspectives to the crisis council of eight key ministers, adding that different options for reopening were considered."We went through all sorts of scenarios and models, and lots of different points of view were put forward," he told radio station 3AW.
"I don't want anyone to be left with the impression that all points of view weren't [expressed].
"All of that was ventilated and cabinet came to a view … ultimately cabinet decisions are [unanimous]."
Mr Pakula, responsible for much of the government's consultation with different industries, acknowledged the extreme anguish of many business people but said the government was honest with businesses and peak bodies in the weeks leading up to the reopening plan announcement.
"This causes enormous consternation and pain. This is very, very difficult for business," he said.
"I'm not going to be critical of industry because I understand how much pain they're in.
"The health advice was contrary to their interests."
Mr Pakula said he would be "amazed" if Paul Guerra, chief executive of the Victorian Chamber of Commerce and Industry, felt he had been misled by the government on its plans.
Last week, Mr Guerra said a leaked road map was nothing like what he had seen during his consultation with the government, but much of the draft blueprint came to fruition.
Victoria's five steps at a glance
Looking for a very quick summary of Victoria's five steps to easing restrictions? Here's a great image to share with friends and family: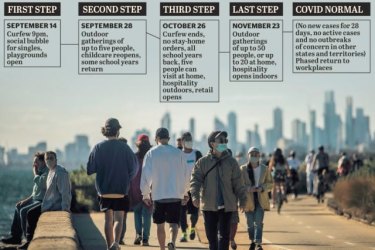 Watch live: Queensland economic update
Victoria records 41 new cases and nine deaths
By

Paul Sakkal

and

Marissa Calligeros
Today's figures are in and there's some encouraging news – Victoria has recorded 41 new COVID-19 cases. It is the lowest daily total since June 27, when the same number of cases was recorded.
Sadly, nine more Victorians have died.
Today's cases come after 113, 81, 76 and 63 infections were recorded over the past four days.
However, what is crucial to easing restrictions in Victoria is the state's 14-day average. At the moment, the 14-day average is 101, and will probably drop into double-digit figures after today.
Restrictions will only start to ease in Melbourne from September 28, if case numbers remain around 30-50 per day on average.
tinyurlis.gdv.gdv.htu.nuclck.ruulvis.netshrtco.detny.im