We have made our live blog of the coronavirus pandemic free for all readers. Please consider supporting our journalism with a subscription.
Pinned post from
Victorian Premier Daniel Andrews to give daily COVID-19 update at 10.30am AEST
Victorian Premier Daniel Andrews to give daily COVID-19 update at 10.30am AEST.
We plan to have a live stream of the press conference on this blog.
Latest updates
Queensland records one new case
By

Lucy Stone
Queensland has recorded one new case of COVID-19, a close contact of a known case.
Premier Annastacia Palaszczuk tweeted out the new case, saying there were now 26 active cases in the state.
On Friday there were zero new cases recorded, promising news after an outbreak linked to Queensland's correctional facilities in recent weeks.
Victorian Premier Daniel Andrews to give daily COVID-19 update at 10.30am AEST
Victorian Premier Daniel Andrews to give daily COVID-19 update at 10.30am AEST.
We plan to have a live stream of the press conference on this blog.
'Special moments': new dads learn life lessons in lockdown
By

Hannah Schauder
Ben Schnellenberg was looking forward to spending a lot of time with his newborn son Levi, but never imagined they'd be locked down together 23 hours a day.
The impact of COVID-19 has completely altered the new dad's first experiences of parenthood, which began with him being restricted from joining his partner when she went into hospital in the early hours of labour. Due to social distancing policies, he wasn't allowed in the delivery suite until his wife had received tests and was set up for birth.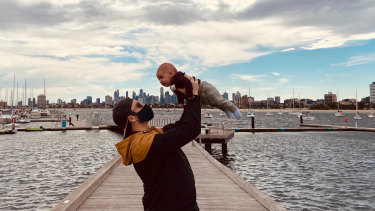 "Sitting in the car, unable to call and not knowing what was going on was quite a harrowing experience," said Mr Schnellenberg, who will mark his first Father's Day on Sunday.
"I was lucky to be allowed to join for the final stages of labour and can honestly say as a first-time dad, I have never felt so helpless and proud at the same time," he said.
Since becoming a dad in lockdown, Mr Schnellenberg, an account manager, has embraced working from home as an opportunity to be more actively involved in Levi's development.
Click here to read the story.
Opinion: To restore the nation's fortunes, Morrison must not only appear humble he must be humble
By

Sean Kelly
Arrogance has always been a political danger for Scott Morrison, partly because of that smirk, and partly because of obvious self-belief. He tends to back himself over others. He doesn't like retreating. In his own words: "I would say I am pretty determined if there is something I believe we need to do … One of the things I really hate is being proven right later."
This isn't entirely a bad thing – don't we want our leaders to be confident? But after the bushfires, the political alarm was flashing. Polling showed big jumps in the numbers of voters who found him arrogant.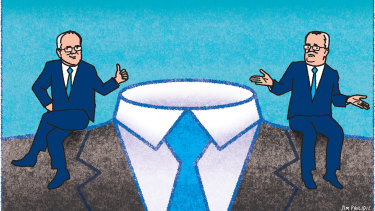 If you're a Morrison critic, you probably still see him like that. And so you might have been a little shocked to read, in a report from David Crowe this week, that Morrison had told his colleagues, "The way we remain a humble but in-touch and focused government is by keeping in touch with respect for each other." Remain?
Interestingly, polls suggest the number of us who see Morrison as arrogant has come back down since the beginning of the year. You can put that down to general admiration for his handling of the COVID crisis. But here's something you might not have noticed: since late last year, the Prime Minister has offered four public apologies. He apologised for his Hawaiian jaunt, for the robodebt mess, for incorrectly asserting slavery hadn't existed here, and for failures in aged care.
Click here to read the article.
Australian film-maker braves double COVID quarantine for Venice festival
Australian director Roderick MacKay braved COVID-19 restrictions to make a "daunting" trip to the Venice film festival, where his debut feature The Furnace premieres on Friday.
MacKay had to get permission from Australian authorities to leave his own country, quarantine in Rome for two weeks before travelling to Venice, and will have to quarantine again when he goes back to Australia.
"Travelling during this time in history is sort of just a little bit daunting for any purpose," 33-year old MacKay, who filmed a video of his journey and self-isolation on his mobile for Reuters, said in an interview.
"But to be doing so, to come to a top tier festival like Venice, to have your debut film premiere on the world stage, it's certainly a whole other layer of dauntingness," he said, adding he was happy and honoured to be at the world's oldest film festival.
"The Furnace", which is in the Horizon section outside the main competition, tells the little known story of cameleers brought to Australia by the British empire from India, Afghanistan and Persia in the second half of the 19th century and the local Aboriginal people they befriended.
The Venice film festival is the first such international event to go ahead in front of live audiences since the coronavirus pandemic shut much of the movie world down. It runs until September 12.

Reuters
Former Cook Island PM dies in NZ's second wave
The second person believed to have died of coronavirus in New Zealand's second wave has been identified as former Cook Islands prime minister Dr Joseph Williams.
Williams died in an Auckland hospital. He was 82.
It is believed he came into close contact with someone linked to the initial Auckland cluster at the Americold coolstore.
Williams served as the Cook Islands Prime Minister for four months in 1999, part of the 25 years he spent in the Cook Islands.
He also served as Minister of Health and Education in 1974 to 1978, and Minister of Health, Tourism, Transport and State-Owned Enterprises from 1994 to 1996.
New Zealand's Finance Minister Grant Robertson said on Twitter that Williams was "such an influential leader in the Cook Island community, and in the health sector in general".
"Deeply respected, my thoughts and aroha are with his family, friends and community," Robertson said.
Inner west bar and eastern Sydney gyms on latest NSW Health alerts
By

Natassia Chrysanthos
The latest NSW Health alerts advise people who attended a popular inner west bar and two eastern Sydney gyms to be on high-alert for coronavirus symptoms.
Anyone who visited Kuleto's Cocktail Bar on King St, Newtown for at least one hour last Friday night, between 6.30pm and 9.30pm, should self-isolate for 14 days and get tested.
The venue has been closed for cleaning.
NSW Health is also assessing two eastern suburbs gyms – Bondi Platinum Fitness First and Randwick Fitness First – for potential exposure to COVID-19 on the following dates:
Bondi on Monday 31 August, between 7am and 5pm
Randwick on Sunday 30 August between 10am and 2pm
Randwick on Monday 31 August between 11am and 4pm
Randwick on Tuesday 1 September between 8am and noon
It will contact attendees who are considered close or casual contacts, but people should get tested and isolate if they identify symptoms in the meantime.
Anyone who attended the Randwick gym between Sunday, August 23 and Tuesday, September 1 should also monitor for symptoms.
NSW reported eight new COVID-19 cases on Friday: seven are locally acquired and linked to known cases or clusters and one is a traveller in hotel quarantine.
Victoria records 76 new cases, 11 deaths for Saturday.
Victoria has reported 76 new cases and 11 deaths for Saturday.
US coronavirus deaths projected to more than double to 410,000 by year's end
US deaths from the coronavirus will reach 410,000 by the end of the year, more than double the current death toll, and deaths could soar to 3000 per day in December, the University of Washington's health institute has forecast.
Deaths could be reduced by 30 per cent if more Americans wore face masks as epidemiologists have advised, but mask-wearing is declining, the university's Institute for Health Metrics and Evaluation said.
The US death rate projected by the IHME model, which has been cited by the White House coronavirus taskforce, would more than triple the current death rate of some 850 per day.
"We expect the daily death rate in the United States, because of seasonality and declining vigilance of the public, to reach nearly 3000 a day in December," the institute, which bills itself as an independent research centre, said in an update of its periodic forecasts.
"Cumulative deaths expected by January 1 are 410,000; this is 225,000 deaths from now until the end of the year," the institute said.
Reuters
Victoria could move to reopen as new cases largely restricted to health workers, experts say
By

Michael Fowler
Victoria's stubborn tail of coronavirus cases should not prevent Premier Daniel Andrews considering reopening the state after next weekend, a number of leading epidemiologists have said, because it was largely healthcare and aged care workers now getting sick.
"You can't lock down five million people in Melbourne because you have a certain number of healthcare workers who are contracting COVID-19," Deakin University epidemiologist Professor Catherine Bennett said. "We have to find a way to shut down that transmission or stop the spread in those workplaces."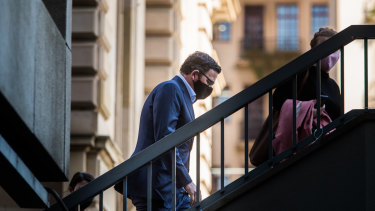 Melbourne University epidemiologist Professor James McCaw broadly agreed, saying there was now "very little circulation within the general community", and adding that it was "very reasonable" to question whether extending Melbourne's stage four lockdown beyond September 13 was the best option.
Click here to read the story.
tinyurlis.gdv.gdv.htu.nuclck.ruulvis.netshrtco.detny.im