We have made our live blog of the coronavirus pandemic free for all readers. Please consider supporting our journalism with a subscription.
Summary
National cabinet will meet today, with border closures, a nationally agreed upon definition of a hotspot, and an agricultural code which will see seasonal workers able to travel across state lines all on the agenda.
Victoria has recorded 81 new coronavirus cases on Friday. The state's death toll increased by 59, including 50 aged care deaths which occurred in July and August, pushing the national toll to 737.
Attendees at a Sydney gym have been directed to self-isolate, as NSW recorded nine new community cases on Thursday. After aged care visits in the Sydney area were restricted, an announcement easing the rules before Father's Day is expected to be announced today.
Queensland has announced a border bubble including the Moree region in northern NSW. Premier Annastacia Palaszczuk said she would want 28 days of no community transmission before reopening her border to the rest of the state.
There have now been 26.1 million coronavirus cases worldwide, according to the Johns Hopkins University tally. The global death toll has passed 864,000.
Latest updates
Compliance officers recruited from non-health backgrounds, inquiry hears
By

Tammy Mills
Authorised officers were recruited from different government departments and other organisations as demand grew in Victoria's hotel quarantine, an inquiry into the program has heard this morning.
Department of Health and Human Services senior authorised officer Noel Cleaves said at first, the authorised officers were drawn from his own team in health protection including radiation safety, Legionella risk management and the regulation of commercial pest controllers.
"It was quickly realised we would need to supplement the number of authorised officers," Mr Cleaves said.
Officers were recruited from other government departments and then, other organisations, to perform a role in hotel quarantine to ensure compliance with quarantine detention.
Counsel assisting the inquiry Rachel Ellyard asked Mr Cleaves if it would have been ideal to have officers who had a health background, given a number of detainees were in distress.
"There is not a stock of authorised officers with public health training in sufficient numbers to run a hotel quarantine program. It just does not exist in Victoria and I'd be surprised if it existed in other places in the world," Mr Cleaves said.
He said the role of the officers was heavily focused on compliance with law and the ability to read the law and use good judgement to interpret it. The recruited officers often came from an area that had that base skill, he said.
Victorian opposition wants clarity for restaurants and cafes in Sunday's plan
By

Michael Fowler
Victorian opposition leader Michael O'Brien has demanded that Sunday's reopening road maps include guidelines for hospitality venues to open as soon as possible, citing Premier Daniel Andrews' comments in July that almost no transmission had occurred in cafes, pubs and restaurants.
While Mr Andrews yesterday dismissed a leaked draft plan suggesting Victoria would stay in stage four until September 27 as outdated, he refused to rule out stage four being extended beyond next Sunday.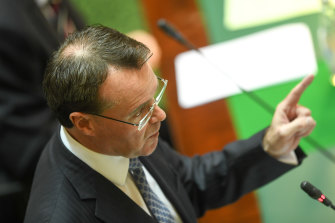 Mr O'Brien said if small businesses remain shut down for two to four more weeks, "they're just going to die".
"Victorian business is on its knees, Victorian business has barely got a heartbeat. The government must come out and give our small businesses some hope this Sunday," the Liberals leader told reporters.
"Too many people are facing the end of their dreams. Too many people are facing the end of their jobs. It's not enough for the government to keep people waiting. We need to be able to get businesses and small businesses safely reopened. And that's what the government's roadmap must have, if it's to be any plan at all."
He welcomed the City of Melbourne's proposal to transform footpaths and streets into dining areas as the city emerges from lockdown over the summer months.
"I think it's a terrific idea. I think anything that can give these businesses a chance to do what they do, to give people a chance to get back into work, I think that's fantastic," he said.
Mr O'Brien, whose party will vote against the government's six-month state of emergency bill when it's brought before the lower house afternoon, also had a message for anti-lockdown protesters.
"Don't do it. Don't do it. Look, I at least have been consistent when it comes to protests, whether it's been Black Lives Matter, or anti-masks, or anti-5G or anything else. This is not the time for a protest," he said
"This government rolled out the red carpet for Black Lives Matter protesters, and it's held up a red card to this weekend's protest. You know what, red card them all we don't need protests at this time."
Inquiry hears about powers of officers inside hotel quarantine
By

Tammy Mills
The Victorian inquiry into hotel quarantine is hearing more information about the powers authorised officers had in hotel quarantine.
Authorised officers worked for the Department of Health and Human Services and were responsible for the enforcement of detaining returned travellers and expats in hotel quarantine.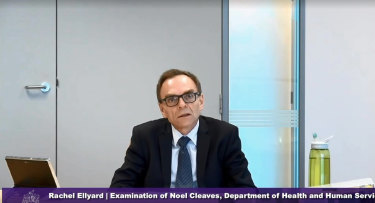 Department of Health and Human Services official Noel Cleaves told the inquiry this morning said he was surprised that returned travellers would be detained under the state-based Public Health and Wellbeing Act and not the Commonwealth's biosecurity laws.
"I was aware of the biosecurity laws…they are very powerful laws," he said.
"I just assumed … that would be the way that international passengers would be placed in quarantine."
Mr Cleaves, who was a designated senior authorised officer, said the role of an authorised officer in quarantine was to ensure compliance with the detention notices issued to all the incoming passengers.
On the ground, the role of authorised officers included processing the detention notices by adding room numbers to names and responding to reports of non-compliance.
The officers were also vested with the power to release people from quarantine, but Mr Cleaves said this was done so with advice from the public health team.
He said the officers' role differed from that of a DHHS team leader, of which there was one at each hotel. DHHS team leaders coordinated the response from all the agencies working in the hotel, running the daily briefing meetings, Mr Cleaves said.
Palaszczuk not deterred by 'intimidating' border criticism amid AFL bid win
By

Toby Crockford
The Queensland Premier remains defiant in the face of a fresh wave of criticism over the state's tough border restrictions after confirmation the AFL Grand Final will move to Brisbane this year.
Annastacia Palaszczuk said the criticism over borders has been "relentless" and "intimidating" but she has vowed to "not be intimidated".
"Whoever won that grand final would have had the exact same restrictions put in place," Premier Annastacia Palaszczuk said.
"If it had been NSW, South Australia or Western Australia, these were national agreements, agreed by the national cabinet and the health professionals so, you know, it's almost as if we're being singled out because we won it.
"The economic benefit to Queensland is enormous … The other parts of the world where there is no sport happening, no business happening.
"This is in Queensland because we are focused on the health response. Our economy is able to do better than in other states."
It is hoped 30,000 fans will be able to watch the AFL Grand Final in person at the Gabba.
In contrast, Queenslanders are encouraged to not hug their dads on Father's Day, especially if they are elderly or have health issues. Dancing in nightclubs also remains off limits.
Police didn't have power to enter Victorian homes earlier in pandemic
By

Tammy Mills
Police initially didn't have the legal power to enter homes unless they were invited in during the early stages of the COVID-19 pandemic, an inquiry has heard.
The Victorian inquiry into the hotel quarantine program is hearing from Department of Health and Human Services official Noel Cleaves, who works in health protection and regulation.
Mr Cleaves told the inquiry this morning that, early in the pandemic, he was assisting Victoria Police with their powers to enforce the Chief Health Officer's directions under a state of emergency.
He said in the early stages of the pandemic in the state, police had the power to issue infringements of the directions, but the key problem was not having the power to enter homes.
For example, Mr Cleaves said, if police attended a party at a residential home, police could be invited in, but "if people did not open that door then police did not have the powers to force entry", he said.
Can construction continue at empty apartments under stage four?
By

Rachel Eddie
We've just sought clarification from Victoria's Department of Health and Human Services after a question from a reader, who says construction is continuing in the empty apartment above him.
Stage four rules in Melbourne say that construction can continue in an empty residence.
"In order for construction to proceed, the residents must have fully vacated the residence. All ordinary residents of that property must have relocated to another place of residence, with no one staying or living at the residence for it to be considered a vacated residence," the rules say. However they are unclear on apartments.
In response to our question, the department has confirmed that an entire apartment building would have to be empty for construction to continue in stage four.
"Under stage four coronavirus restrictions, renovations in apartment complexes / strata buildings are not permitted unless the entire property is vacant," a spokesperson said.
A property is also not considered vacant if residents live in a separate building on the same property.
Police, health officials to front hotel quarantine inquiry
By

Tammy Mills
Victoria Police and the state Health Department will give evidence to the Victorian inquiry into hotel quarantine today.
The reason why police didn't take the lead role to enforce security in quarantine in Victoria has been a key question in the hearings, as has the level of infection control run by the Department of Health and Human Services.
First up to front the inquiry's virtual hearings from 10am this morning is Noel Cleaves, the manager of DHHS' environmental health regulation and compliance.
Victoria Police Commander Tim Tully is also listed, followed by Department of Jobs, Precincts and Regions' Rachaele May.
The inquiry has heard police preferred private security as the "first line of security", which led to Jobs Department bureaucrats contracting three security companies to roll out guards across the hotels used to quarantine returned travellers from May until the end of June. The Victorian government ordered overseas arrivals to cease landing in Melbourne in June in an effort to stem the second spike in coronavirus cases, sparked by outbreaks in hotel quarantine.
The hotels and the security firms have told the inquiry infection control and personal protective equipment training and information was provided on an ad hoc basis, often conducted on the ground by their own supervisors or through nurses on site.
One of the security companies, Unified Security Group, told the inquiry yesterday that police should have been the lead agency, as it has been working in NSW.
We also revealed in a story overnight that the government still owed the security firms more than $10 million.
Sydney's City2Surf confirms virtual-only race
Sydney's City2Surf has been officially moved to a "virtual-only" format in light of social distancing concerns.
The annual 14-kilometre fun run, which is sponsored by the Sun-Herald a newspaper owned by Nine (the publisher of this masthead), has previously been postponed from its usual August date to October.
Three weeks ago it was announced that there would be an option to register for virtual participation. However, Ironman managing director Dave Beeche said at the time there was still "a glimmer of hope" that the race would continue in some form.
"It's disappointing, but we were prepared for this, and we will continue to focus all our efforts on bringing to life an exceptional City2Surf Virtual Run experience for you as we celebrate 50 years of fun – virtually – on 18 October 2020," the organisers said in an email to registered participants this morning.
More than 6000 people have currently registered for the virtual race. The run from Sydney CBD to Bondi usually attracts more than 80,000 participants each year.
Victoria has used less debt facility than anticipated: Treasurer
By

Michael Fowler
"So, that capacity is there. Obviously from a state government point of view, we want to just make sure that the resourcing we've got. the capacity we've got, is directed to the needs of the community and that's why that facility is there. And I'm pleased to say that we haven't had to draw down as profoundly as we anticipated. But nonetheless, that gives us capacity for the future, for the rebuild, for the economic recovery that will be necessary."
Victoria set aside its jaw-dropping $24.5 billion "emergency fund" in April, which the government says it will not necessarily have to exhaust.
Mr Pallas said more support for businesses affected by restrictions should be expected soon but likely not on Sunday when Premier Daniel Andrews announces the state's recovery road map.
"We're going to have to adjust our strategies as we see what the presentation of the virus in the community is, what impact that's having on business," the Treasurer said.
"We're going to have to look in a disaggregated sense about each part, each segment of industry, how it's being affected and what prudent interventions the state can make."
Mr Pallas also elaborated on the role of his COVID advisory panel, revealed by The Age today, which is chaired by businessman Paul Little and made up of senior business leaders such as Coles general manager Tony O'Toole.
"The thing I've appreciated about it is these are not just discussions where are we told how how good the government is going," he said.
"These are businesses that are hurting. These are people who speak from years and years of experience and they give us as frank an assessment of what is going on as they possibly can, so that the government can be advised about the practical impacts. We're advised by it, we're going take the necessary steps to deal with this but we have to beat the virus first."
He said the panel was not being paid for their advice.
Australia's death toll passes 700
Australia's death toll has sadly passed 700 cases, with the announcement of 59 new Victorian deaths, 50 of which occurred in July and August.
There have now been 737 deaths from coronavirus across the country. Australia hit 100 deaths on May 19, and 200 deaths on August 1.
Since then, the figures have climbed, almost exclusively in Victoria (NSW recorded three deaths in August).
There were 300 deaths by August 10, 400 by August 19, 500 by August 22 and 600 at the start of this week.
However, many of the deaths which were reported in Victoria this week did not occur during the daily reporting period, as the federal government and Victorian health authorities work to reconcile their data sets, adding large numbers of aged care deaths previously not included in the Victorian numbers to the state's total.
tinyurlis.gdv.gdv.htu.nuclck.ruulvis.netshrtco.detny.im