We have made our live blog of the coronavirus pandemic free for all readers. Please consider supporting our journalism with a subscription.
Summary
Victoria has reported 63 new cases and five deaths for Sunday which is down from 76 new cases and 11 deaths for Saturday.
Victorian Premier Daniel Andrews is expected to present his plan for the state's recovery following the current lockdown.
The US could have more than 400,000 COVID-19 deaths by Christmas according to concerning new projections.
New South Wales continues to keep its tally of new cases low as talks continue on how it can move towards re-opening its border to Queensland.
Pinned post from
Still waiting on a time for the Victorian roadmap press conference
By

Roy Ward
We are still awaiting a time for the press conference on the Victorian Government's roadmap for recovery.
Usually, the daily press conferences are at 11am or so but some of the most important ones during this pandemic have been in the afternoon so who knows where we will end up!
Victoria reported 63 new cases and five deaths on Sunday morning.
Either way, we will let you know as soon as we hear word on a time and we plan to have a live stream for the full press conference.
Latest updates
How are you getting through lockdown?
By

Roy Ward
We ran this reader question late yesterday and had a great response. Please send us a picture showing the place, habit or person who has helped you get through lockdown….
I would probably send a picture of my local dog park or the NBA on TV as those have been a couple of my favourite lockdown activities.
But please let us know what has helped you through these weeks.
Victoria records 63 cases and five deaths
By

Paul Sakkal
Victoria has recorded 63 new COVID-19 cases five additional deaths over the past 24 hours.
The daily figures come as Premier Daniel Andrews prepares to outline the state's pathway to re-opening.
It takes the total number of deaths caused by COVID-19 in the state to 666.
'Am I going to survive?' The lingering effects of coronavirus and the long, hard road to recovery
By

Melissa Cunningham
"Am I going to survive?"
They were the first words Viswanathan Nair had spoken in weeks. His voice was hoarse and he was gasping for air as a nurse checked his vitals at Footscray Hospital's intensive care unit.
Mr Nair had been intubated and hooked up to a ventilator for almost a month after being hospitalised with coronavirus in July. As he lay under a ventilation hood made of thick transparent plastic, his body withered away.
He had dreams he was a boy again, running in the searing heat along the streets of South India, and had vivid visions of loved ones who had died before him.
Doctors were uncertain he would survive. But almost six weeks in, something extraordinary happened. Mr Nair had beaten the mysterious virus that had ravaged his body.
He faced a new and difficult challenge: the long road to recovery. Shortness of breath, fluid on the lungs, whittled away muscles. He also had flashbacks, confusion and scarring or inflammation of the lungs, heart, kidneys and liver. These are just some of the lingering effects of those who become seriously ill with coronavirus.
Click here to read the story.
Mladenovic, Babos withdrawn from US Open doubles after quarantine notice
Doubles top seeds Kristina Mladenovic and Timea Babos were withdrawn from the U.S. Open on Saturday, hours before they were due on court after Mladenovic received a COVID-19 quarantine notice from public health officials, the United States Tennis Association (USTA) said.
Mladenovic is one of 10 players who came in contact with France's Benoit Paire, who was pulled out from the men's field at the hardcourt major after testing positive for the new coronavirus.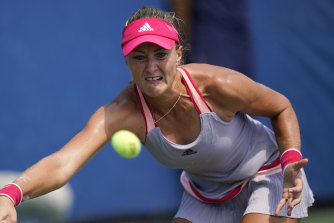 Since the players are staying in Nassau County, which borders New York City, the USTA said public health officials prevented those who were in contact with Paire from travelling to Flushing Meadows where the Grand Slam is being held.
"Public health officials of Nassau County, N.Y., have issued quarantine notices for all individuals who had prolonged close contact to a person who previously tested positive for the COVID-19 coronavirus," the USTA said in a statement.
"All persons who were identified as having prolonged close contact with the infected player will quarantine in their rooms for the remainder of their quarantine period.
"Kristina Mladenovic is one of these individuals, and as the women's doubles competition has begun, the women's doubles team of Kristina Mladenovic and Timea Babos has been withdrawn from the U.S. Open."
Meanwhile, Australia's Alex de Minaur has knocked out 11th seed Karen Khachanov 6-4, 0-6, 4-6, 6-3, 6-1 in the US Open third round on Saturday.
Reuters
Click here to read the story.
'It won't stop': anti-lockdown protesters buoyed by Saturday turnout
By

Zach Hope

,

Ashleigh McMillan

and

Rachael Dexter
Anti-lockdown protesters have vowed to continue taking to Melbourne's streets, as three people faced court on Saturday night over their involvement in the controversial rally earlier in the day.
Seventeen were arrested and at least 160 fines were issued to protesters who swarmed parts of Melbourne on Saturday and clashed with police.
As of Saturday night, five had been charged with breaching Chief Health Officer directives and bailed, two were released pending summons, seven were issued with fines and released and three appeared before court via video link and are expected to be charged.
Victoria Police estimated about 200 people gathered at the Shrine of Remembrance late on Saturday morning after people used social media to tout "Freedom Day" rallies in capital cities around the country – including in Melbourne where stage four lockdown restrictions are in place.
One person was arrested for assaulting a police officer who suffered a laceration to the head, 15 were arrested for breaching the Chief Health Officer directions and one person was arrested on other charges, a police spokeswoman said.
Click here to read the story.
'I know the kids so much better now, there's no going back for me'
By

Wendy Tuohy
Shannon Orbons uses five relatable words to sum up how the sudden shift to full-time work at home and fatherhood of home-schooling kids has gone in 2020: "Not all peaches and candy".
Like many of his mid-career, mid primary school-parenting peers, this year Mr Orbons has found himself deeper in the management of kids' needs than he had been since his eldest, nine-year-old Chloe, was aged 1 and he took four months' parental leave.
Of his present, working-dad life Mr Orbons, a team leader at a large health insurer, says: "The extra time with them is great obviously, but it comes with enormous extra demands on your time.
"Juggling employment with the demands of home-schooling has been incredibly tough."
Even so, does he hope to continue the increased time at home to bond with kids? Mr Orbons doesn't hesitate: "Absolutely definitely. This did improve the way I spend time with the kids and at home."
He is experiencing what Associate Professor Richard Fletcher, head of the Fathers and Families Research Program at the University of Newcastle calls a "Rosie the Riveter" moment for fathers – as the pandemic pushes men home like war pushed women into work.
Click here to read the story.
Health department refuses to release minutes of key COVID-19 meetings
By

Deborah Snow
The federal Health Department has refused to release minutes from meetings of the Australian Health Protection Principal Committee, the peak group of medical officers providing health advice to Prime Minister Scott Morrison and the premiers during the pandemic.
The decision prompted the chair of the Senate's COVID-19 inquiry, Labor's Katy Gallagher, to warn public confidence in pandemic restrictions would wane unless there is greater transparency about the health advice being supplied to national cabinet.
"I think there is a political overlay to it, because it all gets funnelled through national cabinet and is approved by politicians before the public is allowed to access that information," Senator Gallagher, a former chief minister of the ACT, told The Sun-Herald.
"There is a lot of secrecy at a time when a select few people are asking us to wholesale change our lives. I think people's patience with living under those kinds of arrangements is going to wear thin, without the underpinning of the evidence."
The AHPPC is comprised of all state and territory chief health officers and is chaired by the federal chief medical officer. It has issued 64 statements on COVID-19 since January 29, but has held a total of 187 meetings in relation to the pandemic.
Click here to read the story.
Health alerts issued for Kincoppal-Rose Bay, CBD medical centre, as city cluster grows
By

Tom Rabe

,

Natassia Chrysanthos

and

Jenny Noyes
Sydney families have been reminded not to visit loved ones in aged care facilities this Father's Day, as another school prepares to close on Monday after two students tested positive amid a growing cluster in the city's CBD.
The Kincoppal-Rose Bay private girls' school will close for cleaning and contact tracing on Monday after two year 7 day students were confirmed to have the virus.
Police officers acting on public health orders moved to shut down the illegal Freedom Day protests across Sydney.
On Saturday night, principal Maureen Ryan said the school is working closely with NSW Health to ensure the best precautions are in place to protect students and staff.
It comes as the cluster in Sydney's CBD grew by four, and NSW Health issued an alert on Saturday afternoon after two people with COVID-19 attended the Hyde Park medical centre on Liverpool Street.
Health authorities are assessing potential coronavirus exposure of people who attended the medical centre and physiotherapy, pathology, dermatology and dental practices, or the pharmacy on the ground floor of the Liverpool Street building, from Monday August 24 to today.
Click here to read the story.
Andrews says modelling shows COVID-19 surge if lockdown ends early
By

Michael Fowler

and

Clay Lucas
Melbourne is likely to remain in stage four lockdown until well into October, after the Victorian government commissioned modelling showing that releasing restrictions too soon risks an explosion of coronavirus cases before Christmas.
Mr Andrews on Saturday afternoon released research by the government and its partners Melbourne University and the University of New England that modelled 1000 different scenarios and found Victoria was unlikely to have suppressed the virus by mid-September.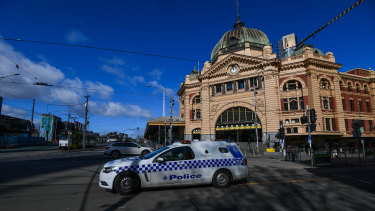 It found that if restrictions were eased when the average number of new daily cases was above 25 for a fortnight, there was a 60 per cent chance of returning to lockdown before Christmas.
The modelling predicted cases were now reducing by 50 per cent every 18 days, and that rate, Victoria's daily case load would not dip below 20 until late October.
Victoria's daily average over the past week has been 84 – and the paper predicts that in mid September, there will still be 60 new cases a day.
Click here to read the story.