We have made our live blog of the coronavirus pandemic free for all readers. Please consider supporting our journalism with a subscription.
Latest updates
Roads, water and electricity: Sydney builds its way through COVID-19 crash
New roads, water and electricity for housing developments will be fast-tracked across Sydney in a $100 million construction boost to help deliver hundreds of social and affordable homes.
In a historic funding agreement between the Morrison and Berejiklian governments, $100 million in loans and grants will be provided to the NSW government to fund critical infrastructure for 781 new homes.
The key services such as roads, water, sewerage, electricity and telecommunications for affordable housing will be delivered through the $1 billion National Housing Infrastructure Facility.
The Berejiklian government has identified construction as crucial to its COVID-19 economic recovery plan and has committed to new investment in social and affordable housing.
Federal Housing Minister Michael Sukkar said the funding deal with NSW was an example of both levels of government working together to increase the supply of affordable housing.
Click here to read the full story.
Trump bypasses Congress, signs controversial executive orders
By

Jeff Stein

and

Erica Werner
Washington: US President Donald Trump has signed several executive orders he said would provide economic relief to millions of Americans, moving forward after talks with Democrats faltered.
The orders marked an extraordinary attempt by Trump to wrestle away some of Congress's most fundamental, constitutionally mandated powers – tax and spending policy. The proposals could be challenged in court.
One of the executive orders aims to provide $US400 in weekly unemployment aid for millions of Americans whose $US600 in weekly benefits expired last month. Trump said 25 per cent of this money would be paid by states, many of which are already dealing with major budget shortfalls and have pleaded with Congress for more aid.
Two of the other executive orders are related to eviction protections and student loan relief.
And the fourth executive order would seek to defer payroll tax payments from September through December for people who earn less than $US100,000.
The president said if he wins re-election he would seek to extend the deferral and somehow "terminate" the tax. The tax funds Social Security and Medicare benefits, and it's unclear what will happen to those programs without the money.
Click here to read the full story.
Tangara school to close for two weeks after second student tests positive
All secondary students at Tangara School for Girls in northern Sydney have been directed to isolate for two weeks after a second student at the Catholic school tested positive for COVID-19.
The school's principal, Rita Sakr, confirmed the second positive case in a statement late on Saturday, and announced that the school would close with no secondary students permitted on campus until Monday, August 24.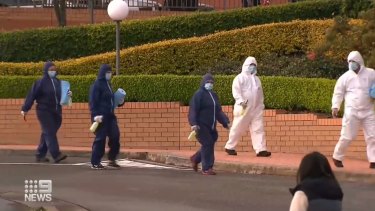 All of those students and any other associated close contacts of the two students have also been asked to arrange for a COVID-19 test as soon as possible, but must remain in isolation for two weeks even if they test negative.
The Cherrybrook school was closed for cleaning on Friday after the first case was identified. Its junior school will also be closed to most students for the next fortnight.
Year 12 students will commence remote learning from Tuesday, and will be contacted regarding arrangements for their HSC trial exams on Monday. The rest of the secondary students will start remote learning from Wednesday.
Click here to read the story.
Brazil's death toll passes 100,000
By

Lisandra Paraguassu

and

Pedro Fonseca
Brasilia/Rio De Janeiro: Brazil's death toll from COVID-19 passed 100,000 on Saturday and continues to climb as most Brazilian cities reopen shops and dining even though the pandemic has yet to peak.
Confronting its most lethal outbreak since the Spanish flu a century ago, Brazil reported its first cases of the novel coronavirus at the end of February. The virus took three months to kill 50,000 people, and just 50 days to kill the next 50,000.
Led by President Jair Bolsonaro, who has played down the gravity of the pandemic and fought lockdowns by local officials, Brazilians who protested nightly from their windows in the first months of the outbreak have met the grim milestone with a shrug.
"We should be living in despair, because this is a tragedy like a world war. But Brazil is under collective anaesthesia," said Dr José Davi Urbaez, a senior member of the Infectious Diseases Society.
He and other public health experts have raised the alarm that Brazil still has no co-ordinated plan to fight the pandemic, as many officials focus on "reopening," which is likely to boost the spread of the disease and worsen the outbreak.
The health ministry on Saturday reported 49,970 new confirmed cases and 905 deaths in the last 24 hours, raising the number of cases to more than 3 million and the death toll to 100,477.
Brazil's Supreme Court and Congress, institutions that have criticised Bolsonaro's handling of the pandemic, respectively declared three and four days of national mourning for the 100,000 dead. The president did not comment publicly.
Reuters
Brett Sutton: Victoria's Chief Health Officer wants to hear from you
The face of Victoria's public health response to COVID-19 says he plans to answer questions submitted by the public at future press conferences.
In a social media post on Saturday, Professor Brett Sutton called for the public to tweet him their burning COVID-19 questions, and he would "do my best to respond to them in future pressers".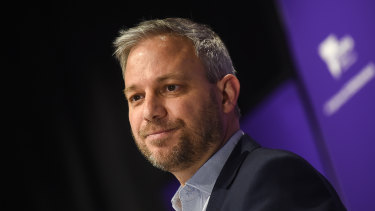 It comes after public criticism of the media for repeated questions around the hotel quarantine saga, and a number of marathon press conferences in recent weeks by Professor Sutton, Premier Daniel Andrews and Health Minister Jenny Mikakos.
Hundreds of questions had already flooded in on Twitter by late Saturday evening. Many wanted to know if there could be postcode data of COVID-19 cases realised more than once a week, instead of the broader local government area data currently being released each day.
Click here to read the full story.
A city divided: COVID-19 finds a weakness in Melbourne's social fault lines
By

Ben Schneiders

and

Royce Millar
At the Spotless industrial laundry in Melbourne's south-east, employees sort through soiled linen by hand as it moves down a conveyor belt and into giant washing machines. In a pandemic, when some of the sheets and pillowslips come from hospitals and aged care centres where COVID-19 is running rampant, this is frontline work.
In late July, a number of these workers were struck down with the disease. Their colleagues, alarmed, wanted the laundry closed.
Spotless refused, seeking instead to limit the closure to one small section of the plant. So keen was the company to continue production, it offered $50 gift vouchers to those who kept working after about half the shift, or 35 workers, walked off the job. Then it took the employees' union to the Fair Work Commission to try to get the workers back.
For the Spotless employees, many of whom are migrants and in casual work, it's a dilemma that has been at the core of Victoria's COVID-19 outbreak for workers in low-paid and insecure work.
"Do we stand up for our rights or do we worry about our income?" said one Spotless worker who asked not to be named because they feared losing their job.
Click here to read the full story.
Push for coaches to help relieve mental health crisis
Beyond Blue is pushing for a system of mental health coaches to be rolled out nationally to address the nation's unprecedented social crisis under the COVID-19 pandemic.
As the nation's mental health services experience unprecedented call volumes from locked-down Victorians, "low intensity" mental health support is being proposed to help up to 450,000 people identified by the Productivity Commission as those who could benefit from the treatment.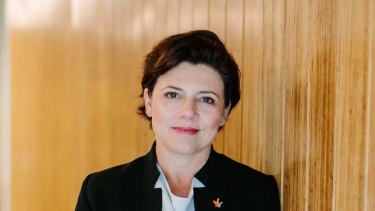 Beyond Blue has told the commission the hundreds of thousands of Australians with mild to moderate depression and anxiety could be treated by a network of mental health coaches trained to support people through cognitive behavioral therapy.
The coaches would be supervised by professional clinicians, with a program to be established to help meet an escalating need as Melburnians' mental health deteriorates under stage four lockdown.
Click here to read the full story.
G'day everyone. It's Roy Ward here and welcome to our COVID-19 live blog on this Sunday morning as Victoria works through the first full weekend of stage four lockdown.
We will have plenty of news and developments today and as always please don't hesitate to leave a comment on the blog or shoot me a tweet directly at @rpjward on Twitter.
More news to come and we will also have live streams of press conferences from major leaders including Victorian Premier Daniel Andrews.
Please enjoy the day to come.