We have made our live blog of the coronavirus pandemic free for all readers. Please consider supporting our journalism with a subscription.
Latest updates
Never too old: 96-year-old graduates from university with honours
Rome: Six weeks shy of his 97th birthday, Giuseppe Paterno fulfilled the dream of a lifetime: a university degree.
"Don't get lost because you find obstacles — because there will always be obstacles," Paterno told reporters after he graduated with honours from the University of Palermo, where he received a degree in history and philosophy. "You have to be strong."
Paterno's graduation has inspired news coverage around the world, partly because of his age. But he has also drawn attention because his life story speaks of commitment, a theme that has resonated as millions of schoolchildren in Italy and elsewhere face extraordinary uncertainty amid the coronavirus pandemic.
Paterno "transmits faith in the future," said Rossella Cancila, his thesis adviser and a professor of history at the university. "He's a model to follow."
He has been honoured by his former employer, the State Railways system, and by the city of Palermo. Interview has followed interview. For Paterno, it's all starting to feel like a bit much.
"Too many interviews, too many compliments," he said, acknowledging that perhaps he was overwhelmed.
Read the full story here
Langer, Broncos staff placed in COVID-19 hold after attending 'private function'
Allan Langer and two other Broncos staff have been stood down after attending the Caxton Hotel last weekend.
The Herald can reveal the Broncos legend, who has been a key part of Brisbane staff since he retired, and two other Brisbane staff members attended the Caxton Hotel to celebrate Langer's birthday after the club's 36-26 loss to Cronulla.
"Three Broncos staff members will undergo COVID-19 testing after attending a private function in Brisbane," a Broncos statement read.
"The club became aware of the matter today involving football staff Allan Langer, Ryan Whitely and Blake Duncan and contacted the NRL immediately.
"As a precaution, those staff have been placed on COVID holds and will undergo testing before returning to the Project Apollo bubble.
"To adhere to best practice, the staff members won't travel for tonight's game in Sydney against the Rabbitohs."
Read the full story here
COVID busters: Just how deep is a deep clean?
Sandra Pankhurst and Trudi Brown are trauma cleaners. Usually, they're donning their hazmat gear to scrub down crime scenes or shuttered meth labs. But in recent months they've been lending their decontamination expertise to a new (and booming) market: coronavirus "deep cleans".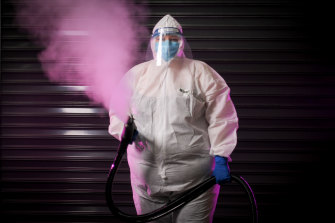 This may well be the year of the big clean. As the pandemic rages around the world, offices, shops, hotels and homes are being wiped down like never before – sometimes three, four, even five times a day. Airlines have pulled out the kinds of chemicals usually reserved for nuking superbugs and herpes in a bid to keep passengers safe from the contagious new virus that causes COVID-19.
"Up until now, people haven't understood what cleanliness really meant," Pankhurst says. "It's not just about [visible] mess."
So what's the difference between clean and deep clean?
Read the full story here
Foot traffic down 90 per cent in Melbourne CBD
Foot traffic in Melbourne's CBD has plunged to record lows under stage four restrictions with just 10 per cent of normal levels recorded on Thursday this week.
Melbourne lord mayor Sally Capp said the CBD's streets had been almost deserted since the latest round of restrictions began.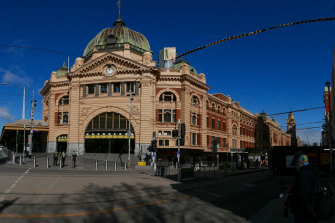 "Pedestrian counts are down about 90 per cent compared to this time last year.
The city hasn't been this empty for this long in living memory," she said."As the lockdown changes were announced we saw the impact happening in real-time across the city."
The levels of pedestrian activity are gathered by 60 sensors across the city. Cr Capp said the plummeting foot traffic was devastating for businesses and trading conditions would remain challenging for quite some time yet.
The council figures show that before the lockdown up to one million people were moving around the City of Melbourne every day before the coronavirus lockdown.
"The sensor at Flinders Street Station underpass normally records more than 36,000 pedestrian counts a day," Cr Capp said. "It's currently recording around 3600 pedestrian counts."
Watch: WA Premier Mark McGowan addresses the media
Wesfarmers will pay permanent staff during lockdown
Wesfarmers, the parent company of Bunnings, Officeworks, Kmart and Target, has said it will continue to pay its permanent staff at its shut-down Melbourne stores for the duration of the six-week-long lockdown.
Full and part-time workers who do not work during the period will remain fully paid, the company said.
Casual workers who regularly work 12 hours or more will also continue to be paid for those hours, however, casuals who work under 12 hours will only be paid the equivalent of two weeks of their rostered hours.
Chief executive Rob Scott said the recently announced stage four lockdown had resulted in "enormous hardship and uncertainty to the public" including the company's 30,000 workers in the state.
"The restrictions on business activity including the temporary closure of in-store retailing has created further anxiety for team members and their families," he said Wesfarmers is not eligible for the government's JobKeeper stimulus package as it has traded strongly through the recent lockdowns, so it will pay staff itself.
"We can't eliminate the uncertainty for our team members, but we can reduce concerns about a sudden and unexpected loss of regular household income that may otherwise occur because of store closures during the restrictions," Mr Scott said.
"It would not have been possible to provide this support without the strong performance our teams and businesses have delivered through the early months of COVID-19."
Some staff will continue to work in-store to fulfil online orders and orders for trade and business customers at Bunnings and Officeworks, however, Mr Scott said the company would continue to push for a change in the government's rules to allow some of Wesfarmers' businesses to trade.
"We look forward to working with the Victorian government in the coming weeks including on any opportunities to further refine the restrictions to ensure important products remain available to the community, where this can be done safely," he said.
Less than 12 hours until ACT/NSW lockout, new Qld border pass system still not ready
With less than 11 hours to go until anyone from NSW or the ACT is locked out of Queensland, the new online application system for border passes is still not up and running.
Chief Superintendent Mark Wheeler says an X pass will be available for border residents and an F pass for freight workers, but apart from that, "exemptions will be few and far between".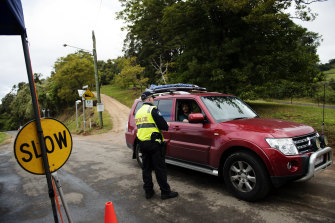 "The Department of Housing and Public Works are working on that [new border pass application system] as we speak," he says.
"There are some complexities around the IT system because it will involve an element of validation for your address, because we want to make sure that people only from the border zone areas are applying for those X passes."
We're hopeful it will be [ready] this afternoon, but if that doesn't happen we will have an interim measure at our border checkpoints and we will work with people on the side of the road."
Chief Superintendent Wheeler says delays exceeded an hour at the Gold Coast border checkpoint.
"Delays today have been very predictably slow, the M1 and Gold Coast Highway as usual in these circumstances have been quite lengthy delays upwards of an hour," he says.
"I anticipate this will get worse as the day goes on, as we get into the evening, there will be that last-minute rush of Queensland residents returning home."
Are you sitting your VCE this year?
As we reported earlier the Victorian government has made a number of changes to the how final year exams will work for high school students this year.
Education Minister James Merlino has announced that every single VCE student will be individually assessed for things such as school closures, long absences, significant increases in family responsibilities as a result of COVID-19 and the impact of COVID-19 on mental health.
He said students will go into their exams "knowing that their final scores and their ATAR ranking will be a fair reflection of their year, and they will not be disadvantaged as a result of COVID-19".
WA dentist admits breaking self-isolation order after flying in from over east
A Joondalup dentist who failed to comply with self-isolation orders after flying in to Western Australia from the east coast in June will be sentenced in October.
Nataliia Nairn, 30, was originally charged with two offences, but had six more charges added following police investigations.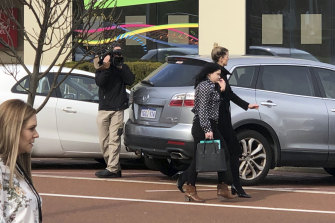 She pleaded guilty to all charges in Joondalup Magistrates Court on Friday.
Nairn was caught when she was spotted at work while she was meant to be self-isolating.
The Emergency Act currently requires anyone returning to WA to quarantine for 14 days.
Police checks on Nairn's home address during her quarantine period found she wasn't there, and further checks found her at work.
Nairn made no comment outside court.
She faces a potentially hefty fine when she returns for sentencing on October 21.
No plans to have Sydney MPs self-isolate before Parliament, says CMO
Acting Chief Medical Officer Paul Kelly and Prime Minister Scott Morrison have answered a number of questions relating to Victorian MPs needing to self-isolate prior to attending Parliament in Canberra on August 24.
Earlier this week it was announced that Victorian MPs would be required to quarantine at home or in Canberra for 14 days before attending Parliament. Health Minister Greg Hunt has already said he will be taking part.
Prime Minister Scott Morrison confirmed Treasurer Josh Frydenberg would also be self-isolating for two weeks, after attending without the requirement last month. He said he expected most Victorian MPs would jump through the hoops to attend.
"For many of these members that means they'll be away from their family for a month, father of two young children, I understand that [and] I don't see that regularly these days either," he said. "But I'm sure all members of Parliament will understand their responsibilities here."
Asked why Sydney MPs were not facing the same restrictions, Professor Kelly said, although Canberrans were being advised by ACT Health to avoid travel to Sydney, there were no quarantine requirements in place as there are for Victorians.
The Prime Minister said he had spoken with Labor leader Anthony Albanese regarding the opposition's suggestion that Victorian MPs could participate in Parliament digitally, although he did not think MPs should be able to vote remotely.
"One of the points that the Leader of the Opposition and I very much agree on is that if you're voting in the Parliament then you've got to be here," he said. "We can't have a situation where people are sort of phoning in votes into our Parliament. You can have no confidence that you haven't got 14 people standing next to them when they make those votes. That's not on, that's not how the democracy works."
This is Mary Ward signing off the blog. Matt Bungard will continue our coverage through to the evening.