We have made our live blog of the coronavirus pandemic free for all readers. Please consider supporting our journalism with a subscription.
Latest updates
Victoria records 76 new cases, 11 deaths for Saturday.
Victoria has reported 76 new cases and 11 deaths for Saturday.
US coronavirus deaths projected to more than double to 410,000 by year's end
US deaths from the coronavirus will reach 410,000 by the end of the year, more than double the current death toll, and deaths could soar to 3000 per day in December, the University of Washington's health institute has forecast.
Deaths could be reduced by 30 per cent if more Americans wore face masks as epidemiologists have advised, but mask-wearing is declining, the university's Institute for Health Metrics and Evaluation said.
The US death rate projected by the IHME model, which has been cited by the White House coronavirus taskforce, would more than triple the current death rate of some 850 per day.
"We expect the daily death rate in the United States, because of seasonality and declining vigilance of the public, to reach nearly 3000 a day in December," the institute, which bills itself as an independent research centre, said in an update of its periodic forecasts.
"Cumulative deaths expected by January 1 are 410,000; this is 225,000 deaths from now until the end of the year," the institute said.
Reuters
Victoria could move to reopen as new cases largely restricted to health workers, experts say
By

Michael Fowler
Victoria's stubborn tail of coronavirus cases should not prevent Premier Daniel Andrews considering reopening the state after next weekend, a number of leading epidemiologists have said, because it was largely healthcare and aged care workers now getting sick.
"You can't lock down five million people in Melbourne because you have a certain number of healthcare workers who are contracting COVID-19," Deakin University epidemiologist Professor Catherine Bennett said. "We have to find a way to shut down that transmission or stop the spread in those workplaces."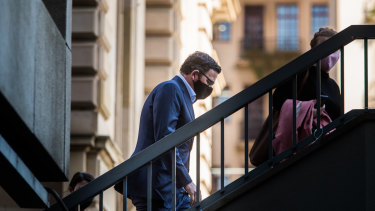 Melbourne University epidemiologist Professor James McCaw broadly agreed, saying there was now "very little circulation within the general community", and adding that it was "very reasonable" to question whether extending Melbourne's stage four lockdown beyond September 13 was the best option.
Click here to read the story.
'We should see vaccine rollout by mid-2021': WHO
The World Health Organisation is hopeful that a novel coronavirus vaccine will be ready internationally by mid-2021, its chief scientist said on Friday.
"Certainly by the middle of 2021, we should start to see some vaccines moving into countries and populations" Soumya Swaminathan said at a news briefing in Geneva.
Noting that there were 13 experimental vaccines currently in clinical trials, Swaminathan called it an "optimistic scenario" since the typical success rate of 10 per cent could mean several vaccines are approved.
But Swaminathan said that no vaccine should be approved for a worldwide rollout until it had undergone sufficient scrutiny.
"No vaccine is going to be mass-deployed until regulators are confident, governments are confident, and the WHO is confident it has met the minimum standard of safety and efficacy," she said.
Results were expected from some of the candidates already in phase 3 trials, each involving thousands of participants, by the end of the year or early 2021, Swaminathan said.
"We are not going to have enough for the whole world right at the beginning," she said adding that scaling up of manufacturing would take time.
"Eventually there will be enough for everyone but it will mean prioritisation," she said.

Reuters
Man charged after allegedly attempting to bribe border police
By

Megan Levy
A man has been charged after he allegedly attempted to bribe police at the NSW-Victoria border.
Officers stopped a vehicle just before 2pm on Friday at the Barmah Bridge checkpoint.
Officers spoke with the driver, a 66-year-old man, and asked for his border permit to enter NSW.
Police will allege in court that the man could not provide a valid permit, and instead offered an envelope with $1000 to an officer.
The Victorian man was arrested and taken to Deniliquin Police Station, where he was charged with give/offer a bribe to a member of NSW Police.
He was granted conditional bail and is due to appear before Moama Local Court on November 4.
British government defies backlash to approve Tony Abbott as new trade adviser
By

Bevan Shields

and

Latika Bourke
London: The British government has defied a growing backlash over plans to appoint Tony Abbott as a trade adviser by formally approving the former Australian prime minister's new position.
The Sydney Morning Herald and The Age have been told Abbott's appointment to the United Kingdom's Board of Trade will be announced on Friday afternoon, local time.
Abbott will be one of a number of new advisers on the board, which is being revamped as Britain negotiates a raft of new global trade deals following its departure from the European Union.
The appointment has set off a major political dispute in Westminster, with cabinet ministers forced to defend claims that the former Liberal Party leader was a "homophobe and misogynist".
Abbott's former chief of staff, Peta Credlin, and his sister, Christine Forster, defended the former prime minister on Friday, rubbishing claims from journalists and Labour MPs that his previous statements disqualified him from the trade position.
Click here to read the story.
Aged care clusters likely driving top active coronavirus postcodes
By

Rachael Dexter

and

Craig Butt
Major aged care outbreaks are likely to blame for Parkville and East Brighton topping lists for active cases in this week's Melbourne postcode coronavirus data.
Roughly half of all Victoria's active cases as of Friday were linked to aged care – 993 from a total of 2060.
The table below shows the postcodes with the highest rate of active cases as of Thursday this week.
Topping the list is postcode 3052, which takes in Parkville and Melbourne University. It has the highest active case rate of any area in Victoria with eight infections per 1000 residents.
Click here to read the full story.
Good morning all!
By

Roy Ward
G'day everyone! It's Roy Ward here and I'll be handling our COVID-19 live blog today as Victoria counts down to the end of stage four lockdown and the announcement of Premier Daniel Andrews' post lockdown plans which are expected to be made public on Sunday.
In the meantime, we will have plenty of pandemic coverage from around the country and around the world.
As always you can leave a comment on the blog or shoot me a tweet directly at @rpjward on Twitter.
Thanks for joining us and enjoy the coverage to come.
tinyurlis.gdv.gdv.htu.nuclck.ruulvis.netshrtco.detny.im