The smiling faces of pregnant federal MPs Marielle Smith, Alicia Payne and Anika Wells while they Facetimed colleague Kate Thwaites – who is also pregnant – during the last sitting week in Canberra was heartwarming. Their presence, online connection and camaraderie sends a strong message about how our federal parliament is changing.
The four MPs were part of a trial sitting week in response to COVID-19, which enabled members to contribute to debates, questions and committees in person and virtually, whether in Canberra or not. This model also presents an opportunity for parliament to be more flexible, raise the standard of Question Time and help the environment.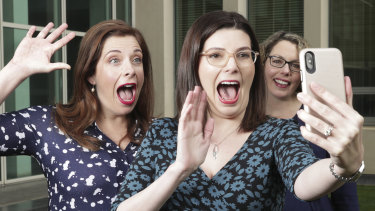 Technology has long added value to our democracy and parliamentary interactions. Right now, our faith in parliamentary representation needs a boost more than ever and this new model could do just that.
It holds the promise of a thriving modern parliament and is a big improvement on parliament's initial response to the pandemic, which was a drastically curtailed number of sitting days, with a restricted number of MPs in the chamber. This had negative implications for our democracy.
The UK trialled a hybrid model of parliament months ago. Up to 50 lawmakers were physically allowed in the chamber, with another 120 joining via Zoom. They reported the proceedings lacked the usual jeering and it was an "almost entirely glitch-free interrogation".
Former senior judge Anthony Whealy and the Centre for Public Integrity have argued that the adoption of the UK's model for the duration of the pandemic would allow for a "more comprehensive resumption of parliament, meet constitutional requirements, and comply with physical distancing rules".
The model has wider implications: imagine the opportunities to involve non-MPs in broad-ranging discussions about policies and representation? It's a little like the Constitutional Convention of 1998. Or when it comes to parliamentary inquiries – constituents can provide input and submissions without travelling to Canberra and elsewhere. Think of the impact on our environment, and on the parliamentary travel budget.
I have joked about how in my first orientation in the Senate Chamber in 1997, the Senate attendant explained that the headphone on my desk connected me to: Channel One the Senate, Channel Two the House of Representatives and Channel Three the cricket.
It was considered a novelty that I had a personal email address and then a web page. By the time I was leaving parliament in 2008, we had laptops in the chamber, mobile phones on our desks and we could interact with voters at will.
Who would have thought that, within a quarter of a century, we would be considering a hybrid parliament that could facilitate greater engagement, a possible diminution in bad behaviour and a win for the environment.
Natasha Stott Despoja is a former leader of the Australian Democrats.