Max Gawn needed to be protected from unfair targeting by opposition teams trying to illegally stop him getting to contests, Demons coach Simon Goodwin said.
The plea for protection came as Gawn admitted he had a muscle tear in his upper back and shoulder area that had left him in doubt for the win over Adelaide and now for the games against North Melbourne and Collingwood.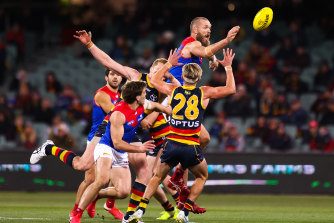 "He is unbelievable performance to get up for this game. He is sore," Godwin said.
"He gets a lot of attention, Max, and we continually speak to the various powers that be about the attention he gets. He gets clearly targeted around just getting to a stoppage hopefully we will start to get some protection at some stage.
"It happens every week. He is a target for most teams – he is an outstanding player, he is a great leader, but at some stage hopefully that will come to an end and we can get on with playing some great footy and protect some of our important players in the league that showcase our game. It's really important they get a chance to do that."
Gawn said he had doubted whether he would be able to play against Adelaide, but after medical advice and then training ahead of the game, it was decided he would play.
"I did tear something in my upper shoulder region and I had to be careful and get as much advice as possible," said Gawn. "We went to different people all over the world about the injury and came to the decision I could probably play, and I trained relatively well yesterday.
"The first half it did take me a while, at times I thought why I did put my hand up but I was able to get into it towards the end."
He said he queried in his own mind the motivation for playing while trying to make the correct decision.
"I didn't feel it out there tonight, so I feel like I will be able to get up from a four-day break for North Melbourne, but they are all things you have to weigh up – are you just doing it because you are captain? Are you going out there recklessly? Or is there some thought behind going out there and there was this week."
Gawn said the chairman Glen Bartlett was not the only one to have castigated the team this week, with Goodwin and football manager Josh Mahoney both tearing into the players for their performance and demanding a turnaround.
Goodwin said Bartlett's comments had echoed his own challenge to the players, but "it didn't have any impact on our preparation, it didn't have any impact on tonight's result."
Real Footy
Keep up to date with the best AFL coverage in the country. Sign up here to our Real Footy newsletter delivered to your inbox on Mondays and Fridays.
Michael Gleeson is an award-winning senior sports writer specialising in AFL and athletics.