Latest updates
Aubusson scores in triple ton
Mitchell Aubusson is over for a try in his 300th game.
And didn't he love it.
Great hands from Lachie Lam and James Tedesco in the lead up put the veteran in.
He's just the eighth player to score in his 300th game.
It's 10-0 after 15 minutes.
That's won't go down as a career highlight for Zac Lomax.
He's coughed up the ball in poor fashion and the Roosters are now charging towards the southern end of WIN Stadium.
After a very shaky start the Dragons have found their feet here.
They've pinned the premiers on their own line.
It's 6-0 after 10 minutes.
That didn't take long.
It took 150 seconds for Joey Manu to crash over for the premiers' first points of the night.
Very ominous signs for the home side.
It's 6-0 after three minutes.
We're underway in Wollongong.
Keep it tuned to this page for instant updates, highlights, reaction and everything in between.
These two teams usually square off on ANZAC Day in front of 45,000 punters at the SCG.
That obviously couldn't happen this year so the Last Post is currently being played at WIN Stadium.
The Warriors appear to be honing in on Nathan Brown as their next coach.
Watch this space.
Dragons name Vaughan replacement
With Paul Vaughan sidelined, Kaide Ellis will make his Dragons debut.
Josh Kerr will start in the front row in Vaughan's place.
Surprise in Roosters' late mail
Max Bailey will make his NRL debut tonight for the premiers.
It wouldn't be late mail without Trent Robinson shuffling the deck chairs and he has handed Bailey a debut.
Daniel Fifita will also play in place of Jared Waerea-Hargreaves.
Rules for some, rules for others.
That's what Andrew Webster believes the NRL are guilty of after not announcing any monetary fines for either Souths or Dragons today, despite the serious breaches of the COVID-19 protocol by Wayne Bennett and Paul Vaughan.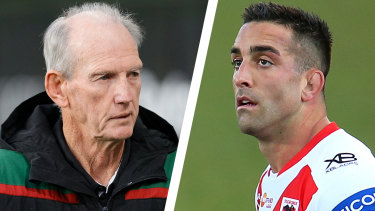 The NRL will be under serious pressure to hit the two clubs with further sanctions in the coming days.