Medical device maker ResMed's revenue has recorded a jump in revenue to $US3 billion as ventilator sales propelled the company's 2020 growth, but management says that tailwind won't last forever.
The company's successful deployment of more than 100,000 ventilators since the start of the pandemic was achieved at the same time demand for its sleep treatments businesses dropped by double digits in a number of key markets.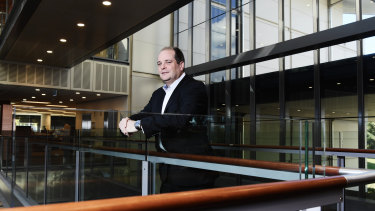 Chief executive Mick Farrell told investors on an earnings call on Thursday morning that the business was expecting a 'U-shaped' coronavirus recovery across its 142 global markets that would hopefully see the company's core sleep treatment business gradually return to pre-COVID levels of growth.
"A vaccine could turn that 'U' shape into a 'V' shape — but we are not counting on that," Mr Farrell said.
The $40 billion respiratory treatments provider has excited the market with strong quarterly earnings throughout the pandemic as the company fast-tracked production of 150,000 ventilators to meet global demand as COVID-19 took hold.
The business, which has shares listed on the New York and Australian exchanges, revealed on Thursday it had achieved 15 per cent revenue growth for 2020 on a constant currency basis, hitting $US3 billion.
Operating profit was $US243 million for the year, up 24 per cent when excluding amortisation expenses.
ResMed chief financial officer Brett Sandercock said ventilators added around $US125 million in revenue in the face of COVID-19. Sales throughout the pandemic had added $US20 million in value for the company overall, once the less favourable aspects of the pandemic on the sleep treatments side of the business were taken into account.
Mr Farrell had previously told this masthead that the pandemic presented "a tale of two markets" for ResMed, with the boom in ventilator sales not fully matching slowdowns in sleep treatments.
On Thursday morning he told investors the business had reached "the nadir" of the slowdown in new patients and from here, recoveries were expected on a quarter-by-quarter basis.
He said while new ventilators orders were still being written, demand would slow down, he said.
"While we are still working on current contracts — the volumes will be lower in the September quarter," he said.
The company declared a dividend of US39c per share. ResMed shares listed on the ASX have gained 27 per cent year to date to sit at $27.95 before the market opened on Thursday.
More to come
Emma is the small business reporter for The Age and Sydney Morning Herald based in Melbourne.