Dozens of people have been arrested at an anti-lockdown protest in central Melbourne as the riot squad and police on horseback were used to disperse crowds.
About 200 people had gathered at the Shrine of Remembrance late on Saturday morning after people used social media to tout "Freedom Day" rallies in capital cities around the country – including in Melbourne where stage four lockdown restrictions are in place.
About 100 police were in and around the Shrine early in the day. Mounted officers were used to move the crowd on about midday amid chants of 'Dictator Dan' and 'Let the kids live'.
The crowd of several hundred protesters then walked around Albert Park Lake. There was initially few police accompanying the protesters but a helicopter maintained surveillance.
Demonstrators were flying Australian flags and chanting "Aussie, Aussie, Aussie".
Just before 1pm, officers from the Public Order Response Team arrived at Albert Park and several more arrests were made as most of the crowd scattered. Police then circled a small group of protesters who did not run away and made further arrests.
One woman, who would not share her name, but said she was from France, told media at the Shrine: "We're not criminal, we're not doing anything wrong".
"Everyone here has families, they're here with their friends, they don't want to get arrested," she said. "There's so many people who would love to be here today but they can't."
In one incident, a man charged at police as they arrested another person and began throwing punches before he was also arrested.
Another man was arrested by police after telling officers any fines would be "unlawful". His white T-shirt sported black hand-written scrawl about Bill Gates.
"We're trying to educate people. We're trying to tell people what's going on," he said after police had him handcuffed.
Another woman toting a hand-painted sign which said 'end the lockdown, end the suffering' told the media through tears she was "asking the world to help us".
Police told the woman to move away, as she had already received a fine for breaking the Chief Health Officer's stay-at-home directions.
Asked about the heavy police presence in central Melbourne on Saturday Premier Daniel Andrews revealed his own car was stopped on the way to work this morning.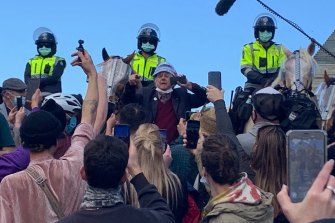 "There is a very visible, very significant police presence in the city," he said.
"Some people have forecast that they in a selfish, dangerous and unlawful way protest and police are taking appropriate steps. It is absolutely selfish for people to be out there protesting.
"The only protest we should be engaged in, the only argument, the only fight we should be engaged in as against this virus.
"Let's not any of us do anything that might jeopardise this strategy stopping, let's not any of us do anything that might see more coronavirus cases rather than less. That is just not worth it."
Anti-lockdown activists have drawn thousands of their followers onto encrypted messaging apps as Facebook blocks their social media pages.
A channel appeared on chat app Telegram on Tuesday, and by Thursday night had garnered more than 5300 members.
Prominent Melbourne-based anti-lockdown activist Raph Fernandez told his followers on Thursday he no longer supports the protest.
"I feel like we are playing right into the hands of authority, at least in Melbourne," he said in a Facebook live video seen by thousands.
Police have drawn criticism in recent days from legal and civil liberty groups for their treatment of alleged organisers accused of inciting the protests.
In one case, a pregnant woman from Ballarat was arrested and handcuffed in her lounge on Wednesday while a Melbourne man had his door broken down on Friday morning when police arrested and charged him with alleged incitment.
A woman, who said she didn't want her name made public, said she had joined the demonstration on Saturday because COVID-19 was an "excuse" for the state to be locked up.
"This is not a pandemic, 650 deaths is not a pandemic by anyone's standards," she said.
"Young people are not catching but they're shutting our schools down. Every act of oppression is unjust and unwarranted."
She said she believed the real numbers of people who agreed with the anti-lockdown were in the "thousands", despite the lower turnout at the Shrine.
"Dan Andrews will probably use this as an excuse to extend the lockdown."
Multiple people were also arrested at similar protests in the Sydney CBD on Saturday morning.
A NSW Police spokeswoman confirmed a police operation was under way in response to an unauthorised protest at Hyde Park.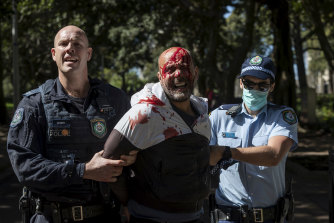 "At this stage, a number of people have been arrested including a man who allegedly assaulted an officer," she said.
"The officer did not require medical treatment and the operation is ongoing."
Eyewitnesses said about 50 to 60 people were in attendance at 11am and described "a few violent arrests".
Online, organisers have also said they would protest at Sydney Olympic Park later on Saturday.
Sign up to our Coronavirus Update newsletter
Get our Coronavirus Update newsletter for the day's crucial developments and the numbers you need to know. Sign up to The Sydney Morning Herald's newsletter here and The Age's here.
Zach is a reporter at The Age. Got a story? Email me at zach.hope@theage.com.au
Ashleigh McMillan is a breaking news reporter at The Age. Got a story? Email me at a.mcmillan@theage.com.au