Four moments of inspired small-forward play by the AFL's recruit of the season, Dan Butler, was the catalyst for St Kilda's thrilling win over Gold Coast on Thursday night, sending the Saints to second spot on the ladder.
Butler kicked two brilliant goals in the final term to add to two similarly breathtaking majors either side of half-time to inspire his side to victory in one of the best spectacles of footy for the season.
Gold Coast's Izak Rankine snapped a goal with less than two minutes remaining to give the Suns hope, but the Saints, thanks to Butler, had already done enough to secure their win.
This victory was impressive because of the way the Saints stared down the Suns – who played a brilliant four quarters – and overcame a 10-point deficit in the final quarter to win.
The Suns' strong, contested style that took the ball forward without delay looked as if it was going beat the Saints' devastating outside run in the end, with Gold Coast kicking four goals in a row at the end of the third term and beginning of the fourth to overturn a 15-point deficit of their own.
But Butler's goals, and a big contested mark and set shot to the ever-improving Josh Battle, got the job done.
Ben King won the battle of the boy wonder twins, kicking three goals, although Max tried hard at the other end with one goal of his own.
This victory and the win over Port Adelaide were flag-in-the-ground moments for the Saints, although over the next two weeks against Geelong and Essendon they have two more chances to prove they are the real deal, in case anyone is still to be convinced.
This game was also a perfect advertisement for a floating fixture in the future.
Those against it would say it's too hard for fans to plan interstate travel with moveable draws, but those in favour of it will point straight to this game.
In the pre-coronavirus fixture the match was scheduled for a Saturday twilight slot in mid-June on Fox Footy.
But because of the COVID-19 pandemic, and because these are now two of the most entertaining teams in the AFL to watch, the Suns and Saints were given a prime-time and free-to-air slot.
And they delivered with a cracking display.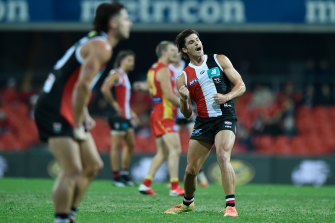 Both teams were positive and very rarely tried to take the pace off the game or control its tempo through possession.
Jack Billings, Hunter Clarke and Jack Steele were the creative forces that helped shape the Saints' win. Billings was dangerous going inside 50, Steele was strong as always in the contest and Clarke's calmness in chaos in defence and across half-back continues to confound.
Saints supporters, starved and deprived of success for so long having not made the finals since 2011, must be wondering if their side are assured of post-regular season footy.
It looks like they are. Shame that their long-suffering faithful from Victoria probably won't be able to go and watch.
GOLD COAST 2.1 6.5 8.7 11.8 (74)
ST KILDA 3.2 6.2 9.4 12.6 (78)
GOALS – St Kilda: Butler 4, Steele 2, Battle 2, Marshall, King, Gresham, Kent.
Gold Coast: King 3, Powell 2, Rankine 2, Miller 2, Anderson, Lemmens
BEST – St Kilda: Butler, Billings, Clark, Steele, Carlisle, Battle.
Gold Coast: Greenwood, King, Lukosius, Ellis, Weller, Swallow.
UMPIRES – Rosebury, Broadbent, Chamberlain.
CROWD – 3095 at Metricon Stadium.
VOTES
Dan Butler (St Kilda) 8
Jack Steele (St Kilda) 7
Jack Billings (St Kilda) 7
Ben King (Gold Coast) 6
Brandon Ellis (Gold Coast) 6
Anthony is a sports reporter at The Age.