Superannuation funds shower us with heart-warming ads. Whether it's at the footy, on the TV or over the radio, smiling adults and catchy jingles sell the promise of financial security.
However, what really matters when choosing a super fund? Cash.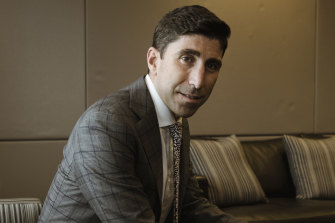 Last week, IOOF unveiled plans to become one of the country's largest funds after it acquires NAB's MLC Wealth. IOOF chief executive Renato Mota said "size matters" and predicted there would be only a handful of mega-funds in the future, with the largest amassing $500 billion in assets.
The reason for this trend? "As funds get bigger, they can make prices lower. It's about delivering better prices," Mota said. "The bigger the fund, the cheaper it is to run on a per member basis."
There was no talk about finding a fund with similar values, same-aged members. It was all about cash. Despite the soft and fluffy ads coming from some corners of the super sector, that's an accepted fact across the board.
Analysis prepared exclusively for Money by research house Rainmaker found fees across all sectors and segments of the industry fell over the past 12 months to record lows.
The analysis reviewed 2720 products offered by 169 funds spanning 93 not-for-profit funds, 68 retail funds and seven eligible roll-over funds and found the industry super sector remained the lowest cost APRA-regulated segment.
Rainmaker estimates super fees totalled a whopping $29.6 billion in 2019-20 – or $2400 per member – down 5 per cent from the previous financial year.
Industry super funds holds 52 per cent of the total funds under management. Retail funds – those owned by listed companies such as AMP and IOOF – hold 23 per cent.
Self-Managed Super Funds, somewhat surprisingly, pay the least in fees compared to their assets, holding a quarter of all funds in the system but paying just 19 per cent of the fees.
New laws came into effect last year to better regulate financial advice. These included the best interests duty, yearly fee disclosure statements and banning conflicted forms of remuneration, like commissions. Rainmaker director Alex Dunnin explains this "massively reformist agenda" led to large cuts in fees paid by retail super fund members.
"You cut those commissions and suddenly the world changes," he says.
Industry funds rely on the intra-fund advice model, where generic advice is paid for collectively by all members. This service is often outsourced to a third party and is a driver in keeping fees down.
The bigger the fund, the cheaper it is to run on a per member basis.

IOOF chief executive Renato Mota
The Rainmaker research showed that funds charging flat dollar fees disproportionately impacted younger members with lower balances. A members with $1000 in super can be charged up to 8 per ent before taking account of the fee cap introduced under the federal government's protecting your super legislation.
Due to increasing competition, six out the top 10 MySuper funds reduced fees in 2019-20. Of these, Dunnin says some have been "spectacularly aggressive".
Funds that posted the five sharpest fee falls over the past two years are Maritime Super, AMP Signature Super, Hostplus, LGS and NGS Super. However, these reductions have often been the result of a product restructure.
Investment fees are the subject of hot debate. The higher the fee, the more experienced the fund manager, in theory, and therefore the higher the return.
Rainmaker's research breaks down the fee charged for each asset sector.
Predictably, cash and fixed interest are among the cheapest to manage – charging between 0.22 and 0.46 per cent in fees.
The most expensive are alternatives (1.33 per cent) – including anything from venture capital to private equity – followed by property (0.84 per cent), international equities (0.79 per cent) and Australian equities (0.75 per cent).
"While it's great that fees are coming down, the big question is whether they could be even lower? The answer is 'yes', there's always room to be more efficient," says Dunnin.
The researcher predicts that if funds transitioned to more indexed investments, relying on passive strategies like Exchange Traded Funds, fees could be cut from 0.7 per cent to 0.12 per cent per year.
"But the question is how this would impact returns – the real metric we should be worrying about," he says. "It would also make super fund members more prone to listed market risks – ETFs don't do unlisted assets very well."
With the retirement income review under way, fees will no doubt be up for discussion. But one thing is for certain, for now, price matters.
Charlotte is a reporter for The Age.
tinyurlis.gdv.gdv.htu.nuclck.ruulvis.netshrtco.detny.im