US deaths from the coronavirus will reach 410,000 by the end of the year, more than double the current death toll, and deaths could soar to 3000 per day in December, the University of Washington's health institute has forecast.
Deaths could be reduced by 30 per cent if more Americans wore face masks as epidemiologists have advised, but mask-wearing is declining, the university's Institute for Health Metrics and Evaluation said.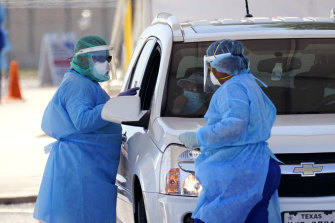 The US death rate projected by the IHME model, which has been cited by the White House coronavirus taskforce, would more than triple the current death rate of some 850 per day.
"We expect the daily death rate in the United States, because of seasonality and declining vigilance of the public, to reach nearly 3000 a day in December," the institute, which bills itself as an independent research centre, said in an update of its periodic forecasts.
"Cumulative deaths expected by January 1 are 410,000; this is 225,000 deaths from now until the end of the year," the institute said.
It previously projected 317,697 deaths by December 1.
The model's outlook for the world was even more dire, with deaths projected to triple to 2.8 million by January 1, 2021.
The US, which has the world's third largest population, leads the planet with more than 186,000 COVID-19 deaths and 6.1 million coronavirus infections.
The institute made waves earlier this year when its aggressive forecasts contrasted with President Donald Trump's repeated statements that the coronavirus would disappear. But deaths have surpassed some of the institute's dire predictions, which have been frequently updated to reflect new data, revised assumptions and more sophisticated information sources.
The US Centres for Disease Control and Prevention issues forecasts only four weeks in advance, and its latest estimate is for 200,000 to 211,000 dead by September 26.
But the institute said with so many Americans still refusing to wear masks, there remains "an extraordinary opportunity" to save lives.
"Increasing mask use to the levels seen in Singapore would decrease the cumulative death toll to 288,000, or 122,000 lives saved compared to the reference scenario," it said.
"Mask use continues to decline from a peak in early August. Declines are notable throughout the Midwest, including in some states such as Illinois and Iowa with increasing case numbers," the report said.
Although US infections have declined to about 45,000 per day from a peak of around 70,000 per day in July, COVID-19 was the second leading cause of death, the institute said. That would place it behind only heart disease, having surpassed cancer as a cause of death in the US.
Infection rates have recently fallen in large states such as Texas, Florida and California, leading to the national decline in cases.
But 10 states, many of them in the Midwest, still average more than one secondary case per infected person, an indication of rapid spreading, the report said.
Berlusconi in hospital with COVID-19 pneumonia
Italy's former prime minister Silvio Berlusconi, in hospital after contracting coronavirus, has mild pneumonia in both lungs but is breathing on his own, and his condition is not worrying, his doctor Alberto Zangrillo said on Friday.
Zangrillo said the infection had been caught at a very early stage.
"His clinical condition at the present time … is quiet and comforting," Zangrillo told a news conference at Milan's San Raffaele hospital, which admitted Berlusconi late on Thursday, a day after the 83-year-old tested positive.
"The clinical indicators are reassuring and I am optimistic," said the doctor.
Zangrillo, who stirred controversy in May when he said coronavirus was losing its potency, told reporters he had decided to hospitalise Berlusconi as a precautionary measure given his age and previous health problems.
The media tycoon underwent major heart surgery in 2016 and has also survived prostrate cancer.
Trump Biden 2020
Our weekly newsletter will deliver expert analysis of the race to the White House from our US correspondent Matthew Knott. Coming soon. Sign up now for the Herald's newsletter here, The Age's here, Brisbane Times' here and WAtoday's here.
Reuters
tinyurlis.gdv.gdv.htclck.ruulvis.netshrtco.detny.im