The Victorian government will not yet rule out a Melbourne grand final this year despite interstate overtures to host the marquee event.
The AFL has a contract with the Victorian government that the MCG host the grand final until 2057, and any move away to a venue that can take crowds would require the government's agreement to break the contract.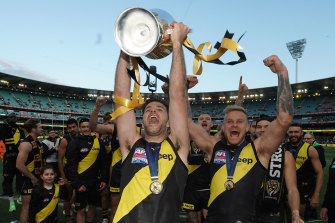 The Victorian government is yet to put a line through the MCG for the grand final, which is to be on October 17 or 24.
But the situation remains uncertain as privately both government and AFL sources acknowledge it is highly unlikely the situation in Melbourne will change quickly enough for the game to be at the MCG and it is only a matter of time before a decision to shift it is made.
Premier Daniel Andrews yesterday pointed out the dilemma his government faces.
''Trying to predict numbers a day in advance, let alone what's happening mid to late October is very, very challenging. They are matters for the AFL in the first instance; we're having discussions with them,'' Mr Andrews said.
''What I can say is types of events that run in Melbourne in October, the types of rules that apply to every Victorian in October, the types of rules that apply to every Victorian, the number of people that are in hospital in October – that will all be the result and the product and determined by the number of Victorians who do the right thing right now.''
An AFL spokesman said its position had not changed and, until the state government informed them otherwise, the grand final was still expected to be at the MCG.
If the MCG does not host the grand final, it would raise a question of whether the state government proceeds with the grand final eve public holiday.
All other states remain viable alternatives to host the grand final, though the two-week quarantine period required in WA would provide the first impediment to it being there under a normal finals structure.
Perth and Adelaide could host games with a limited crowd.
The fact that 14 AFL teams are currently based in Queensland will likely come into consideration, not only for the logistics of the games, but also to acknowledge the fact the Queensland government has been vital in keeping the AFL season alive.
Get our Morning & Evening Edition newsletters
The most important news, analysis and insights delivered to your inbox at the start and end of each day. Sign up here.
Sumeyya is a state political reporter for The Age.
Michael Gleeson is an award-winning senior sports writer specialising in AFL and athletics.