West Australian Ballet artistic director Aurélien Scannella hasn't let the global pandemic stop the company's surge of creativity as the troupe prepares to return to the stage for a fresh take on a classic tale at His Majesty's Theatre this month.
As Australians packed up their lives for a wave of home isolation in March, WA Ballet turned to the digital realm to give audiences their fix of live theatre with online performances of coVID lab and Genesis.
These performances laid strong foundations for the company as WA worked through it's reopening stages. Once the virus had cleared in Perth, the team launched straight back into action.
But Scannella was tentative to take audiences straight from digital performances to the company's flagship offering for 2020, Dracula.
As soon as WA Ballet was given the green light, in-house performances of coVID Lab and Genesis allowed people to readjust to the experience of live shows.
"As soon as we all got to phase three, we all knew that Dracula was going to be performed," Scannella said.
"We knew it wasn't a reality to go straight to His Majesty's theatre, we needed people to be comfortable with coming back to live performances."
The performances of coVID Lab and Genesis kept the dancers in shape leading up to the vital stages of Dracula rehearsals.
The troupe knew if they played their cards right the production could serve as the launchpad back into the arts scene for crowds.
The Helpmann-nominated best ballet is a jewel for WA Ballet, fuelling a classic story with sensual and emotional originality.
"I was confident that Dracula was probably the best production to come back with. It's an amazing production for all audiences," Scannella said.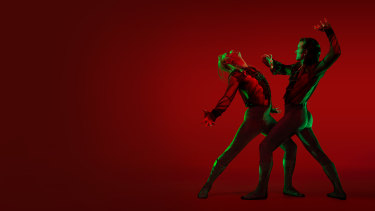 The ballet started with meticulous choreography from world-famous Polish dance creator Krzysztof Pastor, who embraced the rare opportunity to workshop an old story into contemporary ideas.
In the lead-up to the show's first season in 2018, Pastor was able to work directly with the principals and ensemble to ensure Scannella's vision of world-class ballet was met.
"I am so devoted to this beautiful artform … I try to share my passion by bringing quality, discipline and consistency. Through our work behind the scenes, and on stage, it's evident." Scannella said
Scannella's principal ballet mistress – and wife – Sandy Delasalle worked tirelessly with the same 2018 cast to make sure the restaging was as precise as possible.
"We all knew where we were going and understood every aspect of the show. It's just working to bring it back to life … I was mostly working with the principals to retell the story through their emotions and choreograph," Delasalle said.
"When people think of Dracula, they think of blood and all these horrible things. But it's actually a very sensual ballet… it's really beautiful."
The score and libretto are also manipulated from the late Wojciech Kilar (a friend of Pastor's), who provided the music for the 1992 film Bram Stoker's Dracula, and will be performed by the WA Symphony Orchestra.
Scannella is a believer in the unique healing power of the arts, seeing it as a form of mental therapy for people under strict lockdown laws, not just those in WA.
He drew parallels with his own life, telling of how ballet saved his life after a near-fatal accident. At just seven years old, Scannella was hit and knocked off his bike by a drunk driver.
After being in and out of a coma for three months, doctors recommended ballet as a form of physical and mental rehabilitation.
Eventually, Scannella found himself on stage performing to audiences around the world as an internationally recognised ballet dancer.
"The accident changed my life, for the good, I wouldn't be here otherwise … and this comes back to today's world. The arts are a lifesaver. Without it, we would've been lost during our lockdown world," Scannella said.
The company is on track to launch Dracula on stage at His Majesty's Theatre from September 11.
The production is recommended for ages 13 and up but contains adult themes. Tickets are on sale now.
tinyurlis.gdv.gdv.htu.nuclck.ruulvis.netshrtco.detny.im