Here in Melbourne, watching our friends in Sydney have dinner in restaurants, Friday nights at a pub and bushwalking far from their homes evokes dreams of a distant past when we could do the same, along with a cup of the country's best coffee (I couldn't resist that).
However, we look at the daily COVID-19 figures released by NSW Health with a mix of admiration and consternation. Admiration because NSW clearly has an excellent test and trace system, testing widely and rapidly putting out "spot fires" as they emerge. Consternation because health authorities have been reacting to new clusters for more than two months. What's more, they continue to report "mystery cases", namely new local cases with no known contact – 10 in the past week.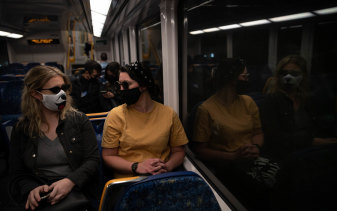 While life may seem normal for most Sydney residents, for many others there are frequent disruptions. Across nine local government areas from Hornsby to Campbelltown, there are alerts to isolate and get tested linked to more than 60 venues, including shopping centres, restaurants and cafes, pubs and clubs, fitness centres, churches and a number of bus routes.
For those who believe they can live with the current numbers, it's worth looking at South Korea. For more than two months, the country reported low numbers of cases and its epidemic curve looked very similar to NSW. However, since mid-August, South Korea has experienced a second wave, reporting 200 to 450 new cases per day. The surge originated in a church north of Seoul but has now spread to 25 new locations.
Under the current regulations of 100 worshippers in a church and 300 patrons in a pub, the possibility of a similar surge in Sydney is real. The report about public health breaches at Bondi Bowling Club illustrates that having a CovidSafe plan does not prevent a potential super spreading event, if the plan is not enforced.
Short of another lockdown in Sydney, there are a number of measures to prevent the kind of outbreak experienced in South Korea.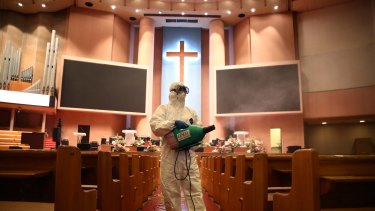 The first is face coverings, which have been proven globally to be effective. Although yet to be peer-reviewed, our own institute's work suggests the mask policy in Melbourne had a substantial impact on transmission. While already strongly recommended in certain settings in Sydney, it would be worth mandating masks in public transport and other situations where physical distancing is not possible. Face masks are affordable, effective and do not disrupt the economy.
A peer-reviewed study from Hubei province in China demonstrates the risk of transmission of COVID-19 on a bus and the desirability of mandating masks on public transport. In that study, an asymptomatic passenger on a long-distance bus carrying 68 Buddhist pilgrims infected 24 people with COVID-19 (35 per cent of those on board). Studies have shown that small virus-containing particles, called aerosols, can linger for more than one hour in the air and just 15 minutes exposure could result in infection. So, it could happen on a shorter Sydney bus trip.
Most experts recommend that both Victoria and NSW should aim for zero mystery cases. Among many advantages, this would make an opening of Australia's internal borders a much simpler proposition.
It is critical that NSW avoid some of the mistakes made in Victoria. The most important relates to vulnerable workplaces, including meat-packing plants, distribution centres, and health care and aged care facilities.
In aged care homes in NSW, have the recommendations of the Newmarch inquiry been fully implemented? Have routine risk assessments of workplaces been conducted and preparedness plans developed?
Experience in Victoria has shown that outbreaks in workplaces spread rapidly through multiple transmission chains in the communities where workers live. So, CovidSafe plans need to be comprehensive and subject to a certification process similar to restaurant hygiene standards, starting with high-risk settings like aged care and health care facilities and meat-packing plants, followed by venues of potential rapid transmission, such as bars, clubs and churches.
Outdoor dining at restaurants should be promoted through councils easing licencing restrictions about al fresco dining. As people return to offices, especially open-plan style ones in high rise buildings where windows can't be opened, the risk of transmission via aerosols is high. Perspex screens and masks should be standard practice.
While NSW's test and trace system is working well through the 15 local health districts, it is not perfect. First, many people with symptoms are not being testing. Based on national FluTracking data, in August, 55 per cent of those in the community with fever and cough and only 28 per cent of those with runny nose and sore throat reported being tested for COVID-19.
And there are those cases where the source of infection can't be traced. The system might be enhanced by an inclusive approach, especially in hotspots, whereby community health centres and community-based organisations are involved in encouraging testing, tracing contacts and assessing the support needs of people who need to quarantine or isolate, including the need for translators.
Today, Victorian Premier Dan Andrews announced that Stage 4 restrictions will be extended by a further two weeks with minor modifications, such as the ability of persons living alone to have one visitor, the curfew moving back to start at 9pm, and the right to exercise outdoors for two hours rather than one.
This shows how very difficult it is to safely emerge from a second wave and should be a cautionary tale for NSW. Victorians sincerely hope for success in Sydney. The idea of Australia's two largest cities being in lockdown, either concurrently or sequentially, is abhorrent. The country's economy could suffer irreparably. But with circulating coronavirus in the community, the danger is ever-present.
Michael Toole is an epidemiologist and principal research fellow at the Burnet Institute.
Trump Biden 2020
Our weekly newsletter will deliver expert analysis of the race to the White House from our US correspondent Matthew Knott. Sign up for The Sydney Morning Herald's newsletter here, The Age's here, Brisbane Times' here and WAtoday's here.
tinyurlis.gdv.gdv.htu.nuclck.ruulvis.netshrtco.detny.im